As a city renowned for its beer culture, Munich boasts an array of exceptional breweries that seamlessly blend time-honored traditions with innovative flavors. Also called a "Wirtshaus", this quintessential gathering spot is where locals and visitors alike come together to relish authentic German cuisine and immerse themselves in Bavarian culture.
You can't walk far in Munich without coming across a brewery or pub. And while every single place has its unique charm, there's something truly special about these traditional breweries and restaurants that have stood the test of time.
What's the Difference Between a Wirtshaus and a Beer Garden?
The distinction between a Wirtshaus and a beer garden lies in the atmosphere and setting they offer within Bavarian culture.
A Wirtshaus is a traditional inn or tavern, characterized by its indoor seating, cozy interiors adorned with rustic decor, and a historical ambiance. It's a place where patrons can enjoy classic German dishes, immerse themselves in local camaraderie, and experience a deeper connection to tradition.
On the other hand, a beer garden is an outdoor oasis, typically nestled within or adjacent to a brewery or restaurant. With shaded seating under trees and a more relaxed, communal vibe, beer gardens are particularly favored during warmer months. Patrons often bring their own food to enjoy with the available selection of beers, offering a unique way to savor both nature and culture.
Read all about Munich beer gardens in our Beer Garden Guide!
Hofbräuhaus München
Platzl 9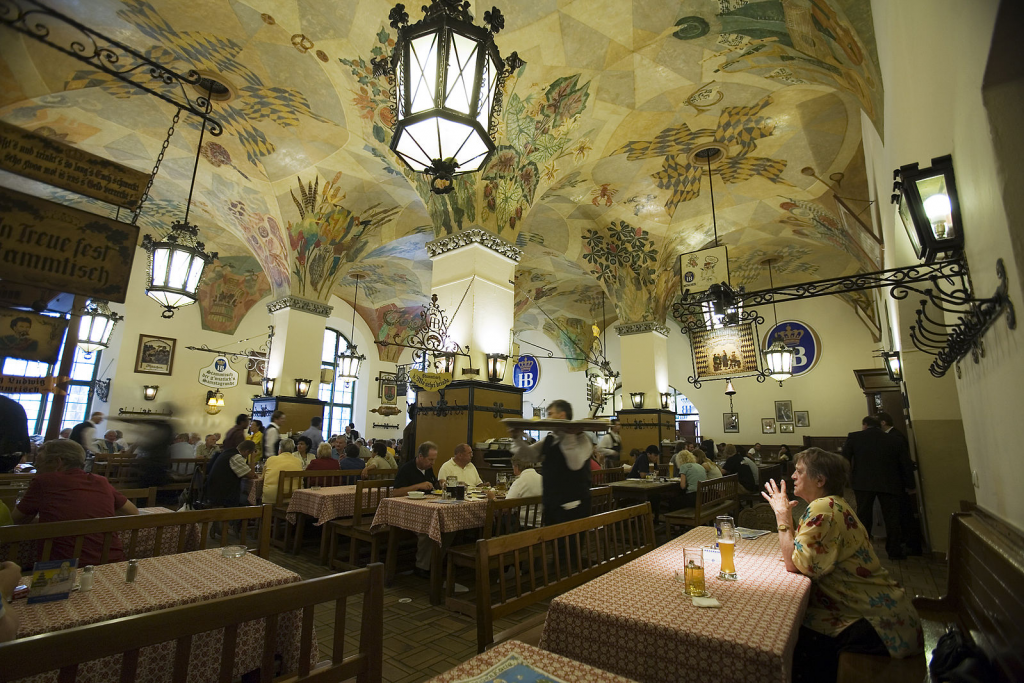 No exploration of Munich's beer scene is complete without a visit to the iconic Hofbräuhaus München. Established in 1589, this historic brewery is a testament to centuries of Bavarian brewing mastery.
Nestled within its charming walls, you'll savor the traditional Hofbräuhaus Lager—a classic Munich Helles lager—paired with hearty Bavarian dishes. From crispy pork knuckles to pretzels the size of your dreams, the Hofbräuhaus promises an authentic taste of Bavaria in an atmosphere steeped in history.
This location is the main Hofbräuhaus in the center of the city. It's a massive building with three stories and an outdoor beer garden. While obviously one of the more touristy locations, it is still worth a visit, especially when there is live music (check the calendar for exact event times and dates).
Augustiner Keller
Arnulfstraße 52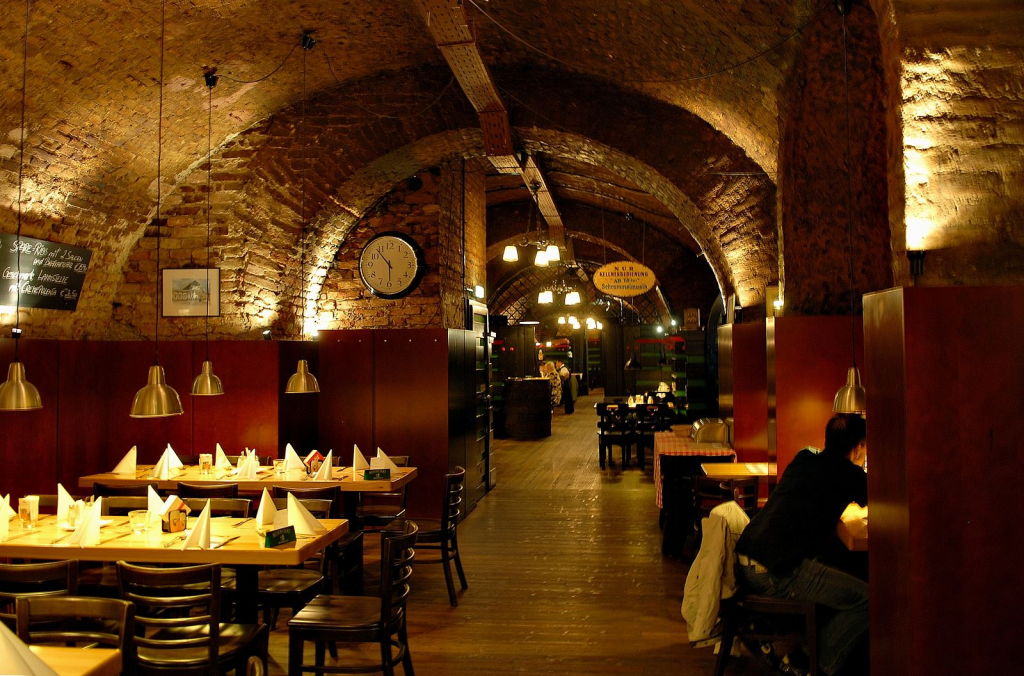 Augustiner Bräu, founded in 1328, is a brewery that encapsulates Munich's long-standing brewing heritage. With a focus on quality and simplicity, their beer is a testament to the notion that sometimes, less is more.
The Augustiner Keller beer garden (within walking distance from the main stations) offers a tranquil haven amidst the bustling city, inviting you to savor their renowned Edelstoff beer alongside Bavarian delicacies. In addition to the charming beer garden, this location also has an indoor restaurant complete with a giant beer hall and a cozy underground basement.
Augustiner Bräustuben
BräustubeLandsberger Str. 19
Another popular place for Augustiner Beer, the Bräustuben is considered to have some of the cheapest pours in the city. A half-pint here is €3.55 compared to the €4.30 price tag over at Augustiner Keller. Inside, you'll find a spacious beer hall as well as a cozy tavern room. But on a nice day, you can also grab a drink on the outdoor rooftop!
Paulaner am Nockherberg
Hochstraße 77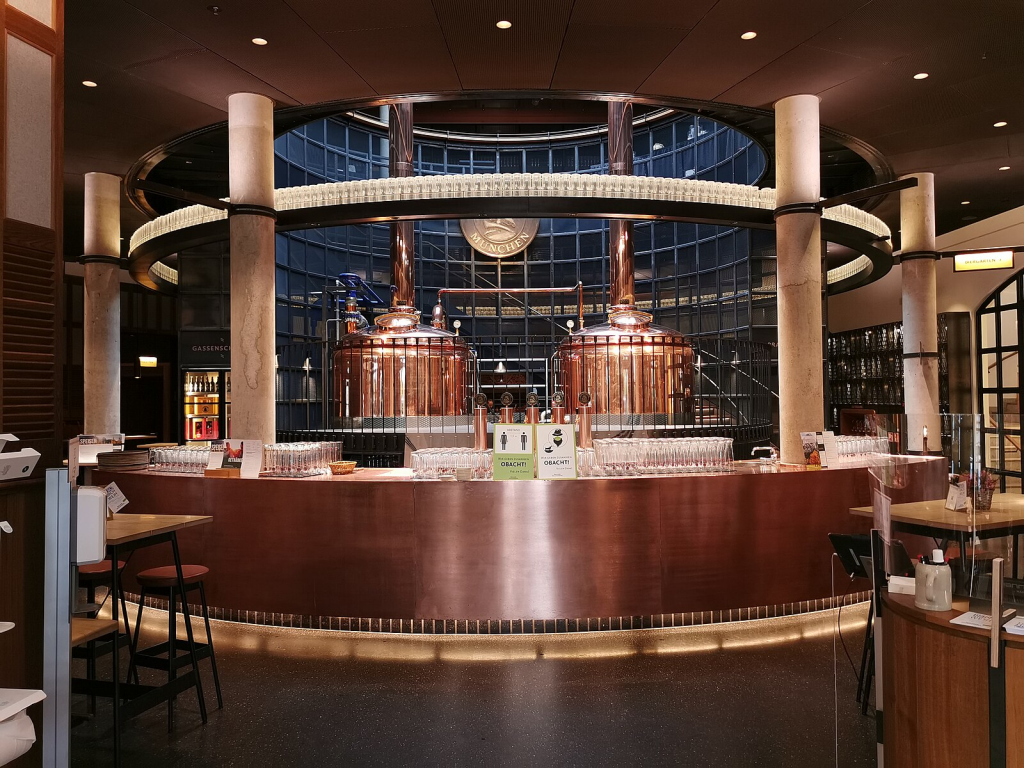 Owned by the legendary Paulaner Brewery, this picturesque location in the Giesing neighborhood is a contemporary take on Bavarian brewing. The interior is dominated by two impressive copper kettles that produce up to 540 hectoliters of beer, giving the restaurant a sleek and modern feel.
But in the beer garden, you can enjoy a self-serve array of drinks, including their famous Weißbier, as well as gourmet German dishes. Nockherberg also hosts the annual Starkbierfest (Strong Beer Festival), which runs for three weeks in early spring.
Ayinger am Rotkreuzplatz
Wendl-Dietrich-Straße 5
While there are several Ayinger breweries in the city, the one in Neuhausen is arguably one of the most charming locations. It feels like a neighborhood pub, with a small dining area and outdoor beer garden, which mostly caters to locals. The food here is top-notch (some of the best we've had in Munich), so it's worth venturing here if you want an authentic Bavarian experience!
The brewery itself has been around since 1878, so it's a great place to try a Helles or the signature Ayinger Bräuweisse or malty Celebrator Doppelbock.
Giesinger Bräustüberl
Martin-Luther-Straße 2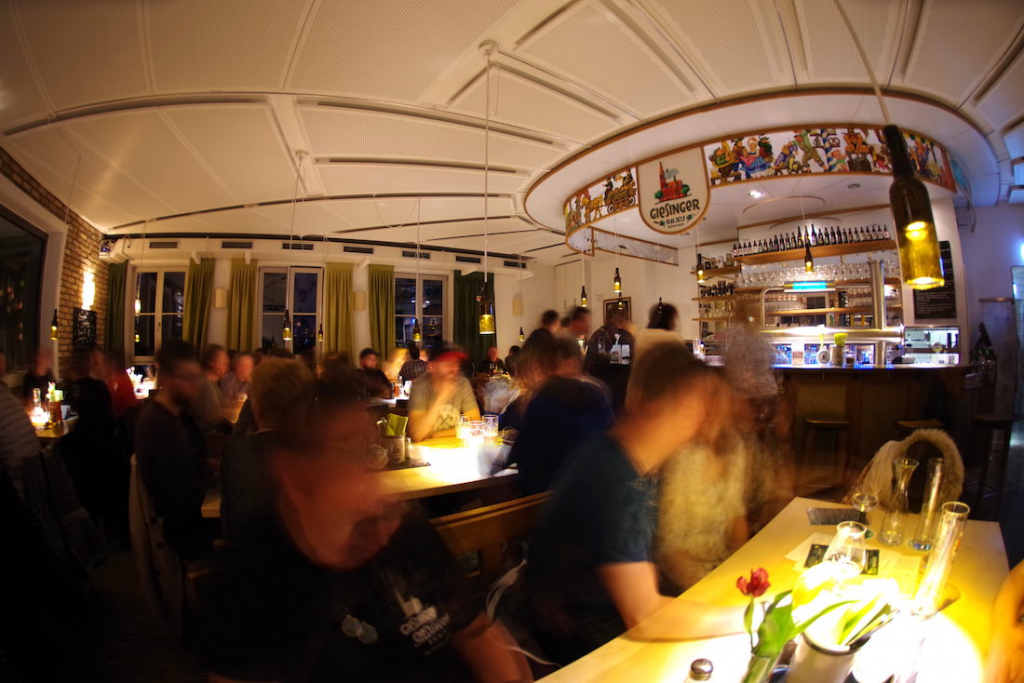 For those seeking a taste of Munich's modern craft beer scene, Giesinger Bräu is a must-visit. As a pioneer of Munich's craft movement, this brewery redefines traditional styles with a contemporary twist. From hop-forward IPAs to experimental brews, Giesinger Bräu's taproom showcases their dedication to pushing the boundaries of Bavarian brewing while maintaining a deep respect for tradition.
Löwenbräukeller
Nymphenburger Str. 2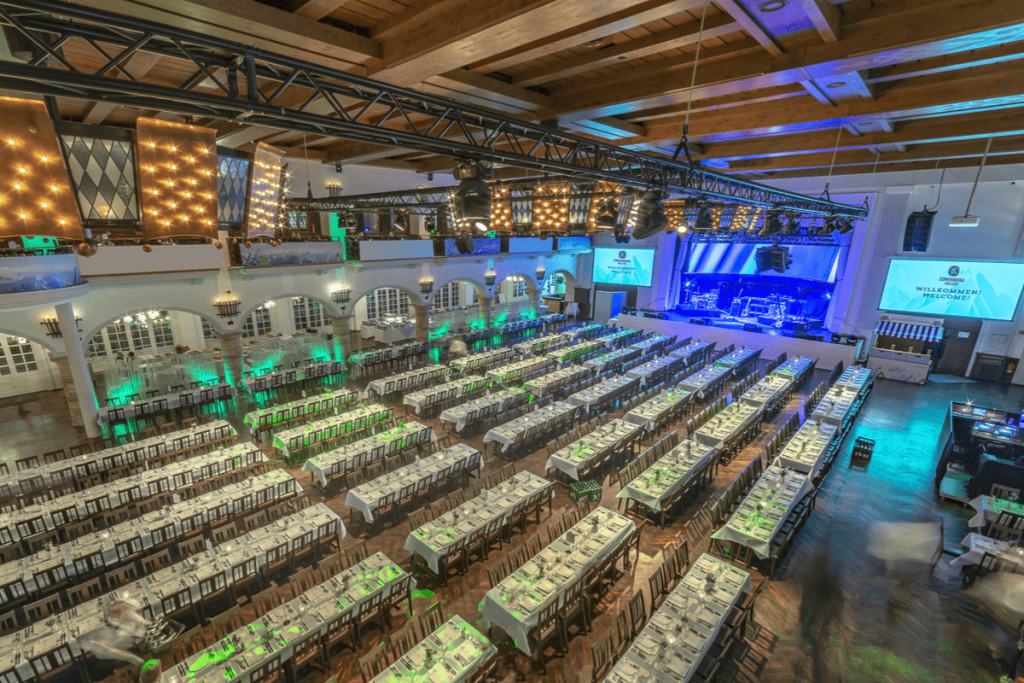 Situated next to the vibrant Maxvorstadt neighborhood, Löwenbräukeller is a Munich institution known for its lively atmosphere and rich history. With roots dating back to 1883, this brewery restaurant offers a warm and welcoming environment to enjoy classic Löwenbräu beers.
From the traditional Märzen to the refreshing Radler, the expansive beer hall and beer garden are perfect for savoring traditional beers as well as hearty Bavarian dishes. And there's often live music, which makes this a fun and festive place to grab a late afternoon drink or meal.
Spatenhaus an der Oper
Residenzstraße 12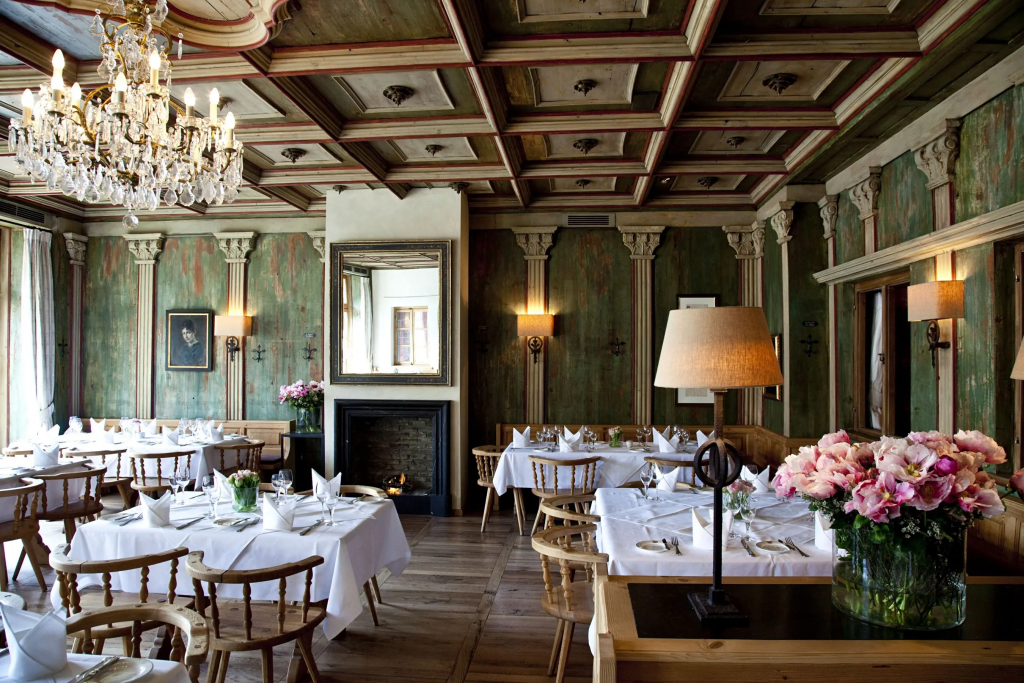 For a touch of sophistication, Spatenhaus an der Oper combines Spaten's renowned brews with culinary finesse. Situated near the Opera House, this brewery restaurant offers an elegant setting to enjoy Spaten's traditional beers, including the Optimator Doppelbock.
The menu is a culinary journey featuring elevated Bavarian cuisine with a modern twist. From its opulent interiors to its central location, Spatenhaus an der Oper offers a refined experience of Munich's beer culture. Plus, the interior is absolutely gorgeous!
Schneider Bräuhaus
Tal 7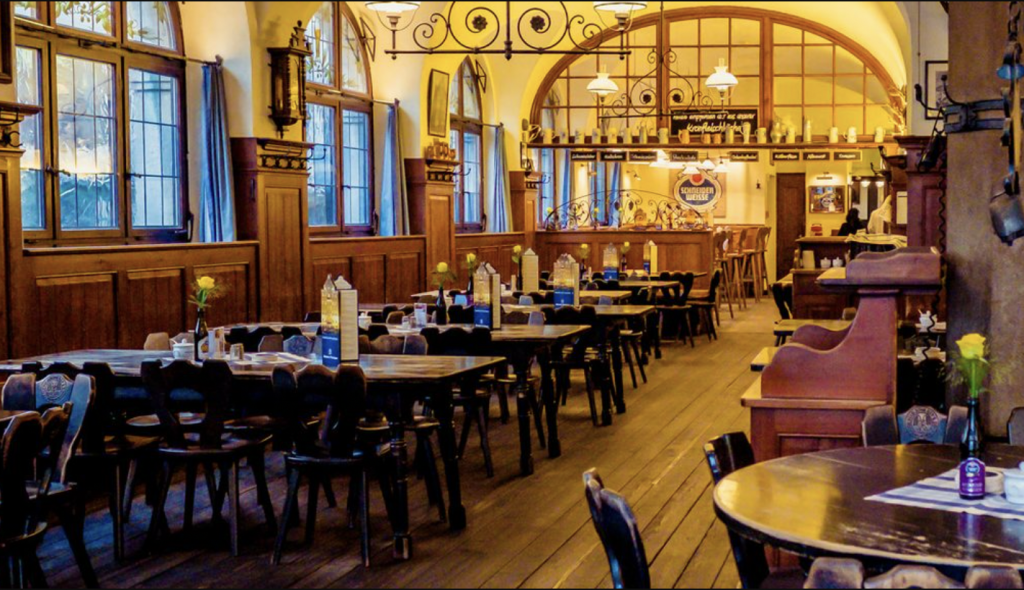 Established by the Schneider family in 1872, this brewery restaurant has garnered a reputation for its exceptional wheat beer creations. While there are many kinds to try, the Aventinus, a strong wheat doppelbock, is particularly renowned for its complexity and depth of flavor.
Schneider Bräuhaus is easy to reach, as it's located right next to Marianplatz and Viktualienmarkt. But despite being in the heart of the tourist center, it still maintains it's local charm, which is great if you want to mingle with the regulars!