Germans take their beer very seriously. Which is why it shouldn't be a surprise that there are over 200 beer gardens located in the city. And we're not talking about pubs or breweries – we're talking 200 different outdoor spaces specifically for beer!
Due to the sheer number of beer gardens in Munich, finding the right place can be tricky. And once you find a spot, what kind of beer should you order? What is there to eat? What are the beer-drinking customs?
That's why we've put together the ultimate beer garden guide for Munich.
Before you know it, you'll be singing German songs and drinking like a pro in no time!
When are Beer Gardens in Munich Open?
As a tourist, one of the most confusing things about going to a beer garden is knowing when they open. But don't worry, this can also be confusing for locals as well.
As a rule of thumb, beer gardens are open when the weather is nice.
Generally, that means summer, from late March to late September. However, some beer gardens open in the winter if it's a particularly warm or sunny day. It's up to the discretion of the owner, and there really isn't a way to know if they are open on a certain day unless you go see yourself!
When they do open, they are usually open around noon, although some may start pouring beer as early as 10 or 11am.
What to Eat in Munich Beer Gardens
If you've never eaten in beer gardens in Munich, boy, are you in for a treat. From the cheesy and porky to the carby and sweet, there's a dish for every type of palette. Take a look at our Munich Beer Garden Guide to see the break down of our favorite beer garden foods!
Classic Beer Gardens in Munich
There are a few beer gardens in Munich that are frequented by both locals and tourists alike. The food and service at these places are consistently good. In addition, you also get the traditional experience of dining in an authentic beer garden!
Augustiner Keller
Arnulfstraße 52
Munich's oldest beer garden dates back to 1812 and is one of the most popular beer gardens for locals and visitors alike. It's located just a stone throw away from Hauptbahnhof (Munich Central Station), although you might not see it tucked behind the tall hedges. If you prefer not to sit outside underneath the illuminated patio lights, you can also move inside to the underground cellar or beer hall.
Hirschgarten
Hirschgarten 1
It's easy to see where Hirschgarten, or Deer Garden, gets its name. Next to the restaurant, you'll find an enclosed deer park home to dozens of these adorable four-legged creatures. But the animals aren't the only claim to fame – Hirschgarten has over 8,000 seats, making it the largest beer garden in the world.
Chinesischer Turm
Englischer Garten 3
Nestled in the heart of the English Garden is one of the most famous beer gardens in Munich, although it's not a complete tourist trap. The Chinesischer Turm (Chinese Tower) boasts over 7,000 seats, live Bavarian music, and a wide array of delicious foods and snacks. If you happen to be visiting during the third weekend in July, you'll have the chance to see the famous Köcherlball festival. This folk dance ball starts bright and early (some people get tables at 4am) and attracts thousands of partygoers each year.
Hofbräuhaus München
Platzl 9
When most people think of Munich, they often think of Hofbräuhaus. As one of Munich's six historic brewers, Hofbräuhaus is centrally located to major tourist spots like Marienplatz and Vitkualianmarkt. For that reason, it's relatively touristy, although you'll still find locals and regulars meeting at the stammtisch (more info on that below). Either way, Hofbräuhaus' beer garden is quite small and cozy compared to its large indoor hall, which offers the perfect retreat away from the bustle of crowds.
Small Beer Gardens in Munich
Sometimes, you just need a break away from the long lines and large crowds. Thankfully, there are several small beer gardens in Munich where you can escape the bustle of daily life – with an ice-cold beer, of course!
Biergarten am Viktualienmarkt
Viktualienmarkt 3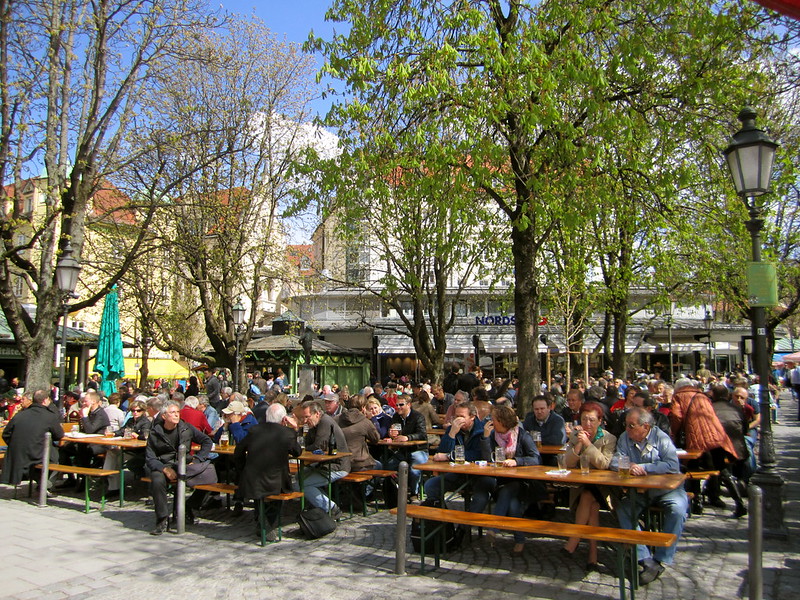 Located in the center of the Viktualienmarkt foodie paradise is a small beer garden. It's directly in the city center, so you can expect to see a fair number of tourists mingled with older locals (many of whom will be dressed up in lederhosen and dirndls). Unlike other beer gardens in Munich, Viktualienmarkt rotates through all six traditional breweries every week.
Biergarten am Muffatwerk
Zellstraße 4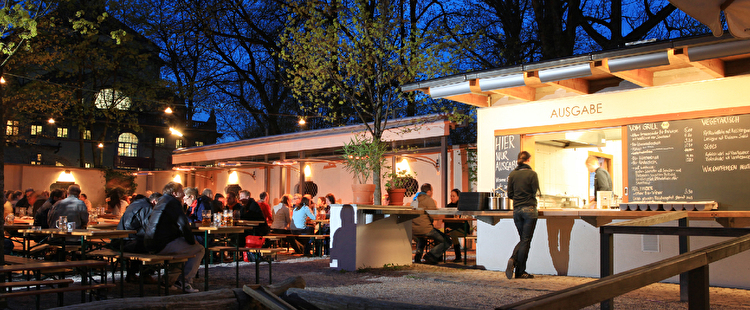 Next to the Muffatwerk concert and event venue is a charming beer garden on the banks of the Isar (but sorry, no view). Despite having a limited food menu, this place still manages to attract the young and hip Munich crowd. It's the perfect place to grab a drinking before sunbathing on the river banks.
Gasthaus Siebenbrunn
Siebenbrunnerstraße 5
Gasthaus Siebenbrunn knows a thing or two about good food. The owner hails from Franconia, and has crafted a menu full of delicious dishes like Fränkisches Schäufele (pork shoulder), Saure Zipfel (vinegar bratwurst), and Fränkische Bratwörschte (Franconian bratwurst). Everything is made in house (even the pretzels!) without any processed ingredients.
Aumeister
Sondermeierstraße 1
The Aumeister restaurant is located inside what was once the official residence of the city's hunter. The building is located in the northern end of the English Garden, and dates back to 1811. Grab a table under the chestnut trees, order a freshly grilled fish on a stick, and enjoy the picturesque garden views in one of the best beer gardens in Munich.
Hidden Beer Gardens in Munich
Want to feel like a real Münchener? Throw out your guide books and head to one of the following hidden beer gardens in Munich.
Wirtshaus am Bavariapark
Theresienhöhe 15
Located a stone's throw away from the famed Oktoberfest grounds (Theresienwiese) is Wirtshaus am Bavariapark. This cozy Bavarian restaurant has a self-serve beer garden with all the classic staples. It's mostly frequented by locals, although wandering drunk Oktoberfest tourists might find their way here during festival season.
Bier & Weingarten (Praterinsel)
Praterinsel 3
With picturesque views over the Isar River, the Bier & Weingarten at Parterinsel is one of the trendiest beer gardens in Munich. Tucked away on the small island in the middle of the river, you could easily miss it's narrow entrance if you walk too fast. And if you crave something besides beer, this hip, little joint also has wine and cocktails. The sand on the ground also adds a nice, tropical touch to this hidden beer garden.
Kaisergarten
Kaiserstraße 34
Located in the Schwabing neighborhood near the Münchener Freiheit station sits an adorable Bavarian pub with a charming beer garden. Kaisergarten is one of our top choices for a modern Bavarian meal (and a delicious breakfast). It's table service only, although you can order anything off their normal dining menu.
Taxisgarten
Taxisstraße 12
If you get thirsty after touring Schloss Nymphenburg, then make your way to the beautiful Taxisgarten. Located in a charming neighborhood surrounded by shady chestnut trees, Taxisgarten is frequented by families, groups of friends, and long-standing residents of the neighborhood. It's the perfect place for a lazy afternoon.
Beer Garden Rules to Follow
Like most things in Germany, beer gardens also have their own set of rules. While many locals don't expect tourists to know all the ins and outs of how to behave in a beer garden, learning a few tips will help you fit in like your fellow beer-drinking Germans. It wouldn't be Germany unless there were certain rules to follow, right?
1. Bring Your Own Food
All beer gardens in Munich allow their guests to bring in their own food under one stipulation – all drinks must be purchased on-site. It's common to see families and groups of friends with large picnic baskets, table cloths, and fully prepared meals. Even if you aren't planning a big lunch or dinner, you can always bring a few snacks to help soak in those carby, hoppy calories.
2. Share Your Table
Mingling with strangers is all part of the beer garden experience – that's why those tables are so long! So leave some extra space for your new neighbors, and don't be scared to squeeze in with another table if you are looking for one. With a maß (liter of beer) in hand, there's no better place to make friends than in a beer garden.
3. But Avoid the Stammtisch
Although Bavarians don't mind sharing tables with strangers, the only exception is with the stammtisch, or table reserved for regulars. They're usually marked in the beer garden or pub, so there's no confusion.
4. Don't Forget the Pfand
Some beer gardens charge a pfand (refundable deposit) on top of the price of your beer. The price can range anywhere from 1€ to 2€ extra, so keep that in mind when calculating your drink price. In many places, you'll get a small token or chip that can be returned along with your glass for a refund.
5. Don't forget to Prost!
Before you knock back your beer, it's important to toast your drinking companions and table mates (even if they're strangers!) Clink the base of your glasses together, shout out a loud "Prost!", and don't forget to look everyone in the eye. Germans superstitiously believe that you'll be punished with seven years of bad sex if you don't'!