Let's get this out of the way – Munich is the most expensive city in Germany. This is bad news for any travelers on a tight budget. You've already spent big bucks on your flight, hotel, and city transportation (which is unfortunately constantly increasing), and now you want to find the cheapest bars in Munich.
We don't blame you! Munich has some of the best bars and watering holes in all of Germany!
Thankfully, there are also plenty of affordable bars where you can drink the night away without breaking the bank. You just have to know where to look. So, if you're interested in the cheapest bars in Munich where you can pay just a few Euros for beer, wine, and cocktails – look no further. We've got you covered.
Augustiner Bräustuben
Landsberger Str. 19
We might be biased, but Augustiner serves the best beer in all of Munich! And you can drink it straight from the source at the Augustiner Bräustuben brewery. Beers here are INSANELY cheap. We're talking 2.80€ for a half-liter of Augustiner Helles. I dare you to find another pub that serves cheaper Augustiner. The atmosphere is also lively, although you can opt for one of the smaller dining rooms towards the end if you prefer something tamer.
Goldenamsel
Reichenbach Str. 37
Not all of the cheapest bars in Munich are dive bars or beer halls. At the Goldenamsel, you can indulge in handcrafted cocktails in a trendy, upsale atmosphere without spending an arm and a leg. That's because they have "Tiny Tinis" on the menu. These mini-cocktails are just 4€, and is perfect for a little sip before heading out for the night.
Schluckauf
Occam Str. 26
Affectionately translated to "Hiccup Bar", Schluckauf is guaranteed to get you tipsy for cheap. Small beers and Kölsch are 1.40€, glasses of wine are 2.70€, and long drinks and cocktails start at 5.50€. The bar is also conveniently located in Münchener Freiheit, so you can easily (and drunkenly) hop on the next train back to your hotel.
Gaststätte Bergwolf
Fraunhofer Str. 17
A popular snack bar amongst the late-night partying crowd, Gaststätte Bergwolf has both cheap food and cheap drinks. They specialize in currywurst, although there's a fair share of other savory sausages on the menu as well. Small beers start at just .50€ (yes, you read that correctly). Get the Le Üwe combo – one currywurst, one order of fries, one beer, and one shot of schnapps for just 9.50€.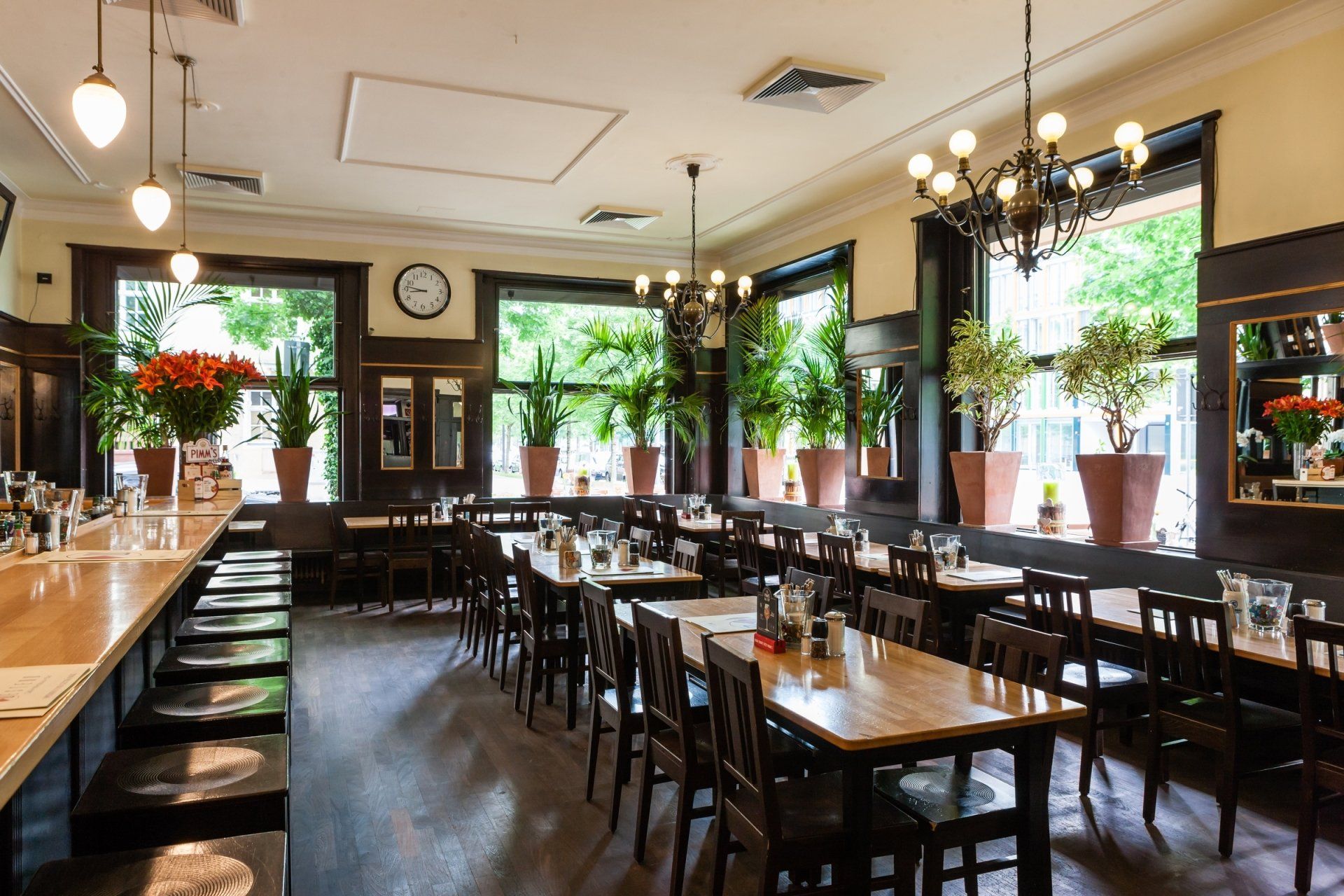 Cafe Westend
Ganghofer Str. 50
What's better than cheap Happy Hour cocktails? Well, how about cheap Happy Hour cocktails and bowling?! At Cafe Westend, you can slurp down delectable cocktails for just 6.50€ when you come from 5 pm to 6 pm or 9 pm to 11 pm. And if you're feeling a little competitive after a couple of drinks, you can challenge your friends to a round of bowling for just 12€ and hour.
Paros
Kirchen Str. 27
This authentic Greek restaurant located in Haidhausen is one of the cheapest bars in Munich – on Monday. Here, you can enjoy ALL YOU CAN DRINK wine for just 6€, with the purchase of one main entree. Considering a glass of wine can cost 4-6€ in most other restaurants, this is a fabulous deal. Just remember to make a reservation – the locals are well aware of this amazing drinking special.
Cafe Kosmos
Dachauer Str. 7
Centrally located by Hauptbahnhof (main station), Cafe Kosmos is a trendy cocktail bar that attracts hipsters, tourists, and after-work locals. Come on the weekend and you might have to squeeze yourself to the bar, but it's worth the effort for the cheap and freshly-crafted cocktails. Small cocktails are under 4€, and beers are under 2€.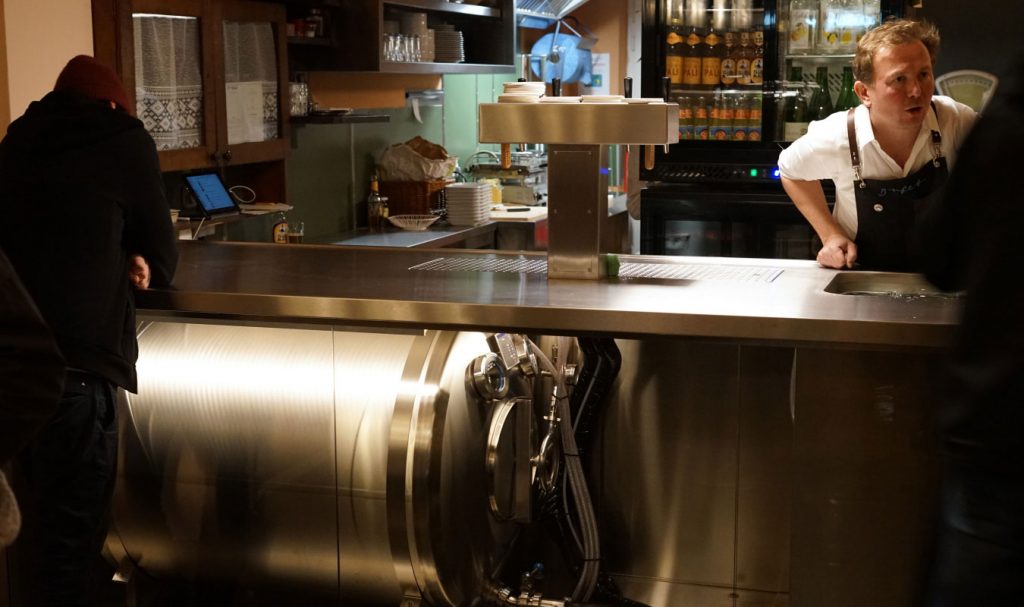 Bufet
Dachauer Str. 7A
If you can't get into Cafe Kosmos, you can hop right next door to Bufet. This casual bar/eatery serves cheap beer (2.80€ for half a liter) and cheap sausages. If you're lucky enough to grab a seat by the window, you'll be in the best spot for people-watching. Otherwise, there's plenty of space to stand and drink while admiring the chill, laid-back vibes.
Pils-Doktor
Leopold Str. 124
Who wouldn't want their drinks to be served by a model train? Pils-Doktor is a charming dive bar where you can have exactly that. Get cheap schnapps for just 1.90€ from Tuesday to Sunday from 6 pm to 8 pm. Or enjoy the three-for-one beer, schnapps, or cocktail deals throughout the week.
To Go Kiosks
On a nice day, you can easily save a few bucks by skipping the bars and heading straight for the outdoors. Kiosk stalls are dotted everywhere throughout the city and are stocked with ice-cold beers that you can take away for under 2€ each. Grab a spot in the sun by the Isar, join your friends in the English Garden, or hit up the buzzing park at Gärtnerplatz.
Boazn
Boazn isn't the name of a specific bar per se. Instead, it's the term for a small, local pub that sells cheap beer, wine, and maybe a handful of snacky items. You can usually tell it's a Boazn by the number of older patrons smoking or sitting outside. While they are generally frequented by locals (it's common for everyone to know everyone's name), they are friendly towards foreigners or outsiders. Although you can't expect the owners to speak English, you can expect an authentic experience and cheap drinks in Munich!
Looking for more spots to drink in Munich? Why not try one of these unique themed bars in the city too?