As the waitress plops the white porcelain bowl down in front of you, your mouth starts to salivate. You slide off the lid, and a cloud of savory steam escapes filling your nostrils with the aroma of herby spice and succulent veal meat. You're about to eat one of Bavaria's most famous breakfast dishes – the white sausage.
Weißwurst, or white sausage, is a Bavarian breakfast tradition. You know you shouldn't be eating these things. After all, they aren't the healthiest breakfast item on the menu. But once you sink your teeth and hear the first pop of the sausage skin, you know made the right choice.
Even if you only try them once during your trip, you at least have to try them. Visit one of our favorite restaurants and try the infamous white sausage in Munich!
What are Weißwürste?
If you've never had a white sausage before, you might be skeptical of this strange-looking piece of meat on your table. But don't let your eyes fool you – they taste a whole lot better than they look!
White sausage is made from veal and back bacon. It's seasoned with onions, lemon, parsley, nutmeg, cardamom, and other spices. It's finely ground (like a hot dog), although the flavor is quite mild compared to other German sausages.
How to Eat White Sausage
Don't be naive! You just can't order a white sausage without abiding by the German rules for eating them. We're just kidding, although Germans do believe there is a certain way to order and eat these suckers.
They are usually served in a lidded pot filled with water. If you want to fit in like a real Bavarian local, you should bite the tip of the sausage off with your teeth and then suck the meat out with your mouth. I know it sounds like a weird way to eat a sausage, but this is the most traditional method you'll see in an authentic restaurant.
But if you're not ready to suck down your breakfast like a German, then feel free to take off the skin with a fork and knife.
It's also customary to pair the sausage with sweet mustard, a pretzel, and an ice-cold glass of wheat beer. Yes, you can drink beer for breakfast, and nobody will bat an eye!
Because white sausages aren't smoked or stuffed with preservatives, they were traditionally eaten as soon as they were made. Even today, many Bavarians refuse to eat white sausages before noon. Although many restaurants in the city serve white sausages all day, traditional restaurants will only have them on the menu until mid-morning.
Where to Find the Best White Sausage in Munich
Gaststätte Großmarkthalle
Kochelsee Str. 13
Considered by locals and tourists to serve the best white sausages in Munich, Gaststätte Großmarkthalle should be one of the first places you visit on this list. Even if they don't rank amongst your favorite, they arguably set the bar for what a good white sausage should taste like. The meat is supplied by the in-house butcher attached to the restaurant, so it's as fresh as fresh can be. The white sausages (along with a handful of other freshly stuffed sausages) are served in the afternoon as well as in the morning.
Schneider Bräuhaus
Im Tal 7.
Keeping with tradition, the white sausages at Schneider Bräuhaus are served before the clock strikes noon. Keep in mind that you'll need to order at least two sausages (although that shouldn't be a problem). And when you're looking to wash down that porky, fatty goodness – don't worry, you're in the right place. Schneider is known for its deliciously frothy and filling wheat beer.
Markstüberl Metzgerei Gaßner
Zenett Str. 11
Located in the central neighborhood of Ludwigvorstadt, Markstüberl Metzgerei Gaßner is known for its high-quality white sausage. They work with local farmers to import the meat fresh every day, which is served in their traditional Bavarian-style restaurant. Markstüberl Metzgerei Gaßner is only open for just a few hours a day (from 7:30 am to 2 pm), so you better get there fast before they sell out.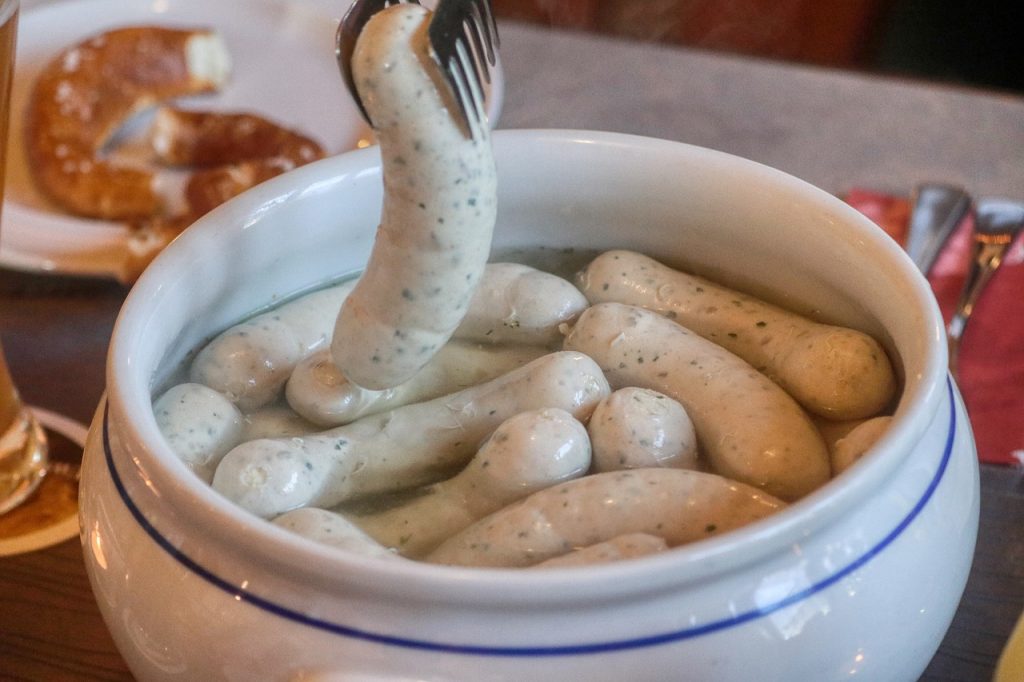 Sedlmayr
Westenrieder Str. 14
It may not be the most off-the-beaten-path restaurant, but it's hard to deny that Sedlmayr serves some of the best white sausages in Munich. They come over from Wirtsmetzgerei Wallner (the same folks who supply the sausages for Gaststätte Großmarkthalle). The crowd is a mix of locals and tourists who have followed their noses from the nearby Viktualianmarkt, so be prepared for a very diverse clientele. Don't worry if you can't make it by noon – they still serve white sausages throughout the day.
Bratwurstherzl
Dreifaltigkeitspl Str. 1
You can't go wrong if the word "sausage" is in the name! This traditional Bavarian restaurant has been around since 1633, long before white sausages were even part of the German diet. In addition to the traditional Bavarian-Franconian classics, they serve almost a dozen different types of sausages, including the infamous white sausage. But make sure to get there early because once the sausages sell out for the day, they're gone!