Munich is the most expensive city in Germany, but that doesn't mean you have to spend your entire budget on food (of course, you can definitely do that here too). However, some people avoid eating at cheap restaurants, fearing that the food might be bad quality or gross. But if you know where you look, you can easily find many mouthwatering restaurants that will only cost you a couple of euros per meal.
This is just a small sampling of a few cheap eats in Munich (we're talking under €10). But you'll find that many of these places sell dishes that are far cheaper than that! And best of all – you don't have to sacrifice quality for money. All these places are downright delicious!
Chat Junction
Zweibrückenstraße 5
This hidden gem is so good that you probably won't want to eat Indian food anywhere else in Munich. At Chat Junction, you'll find super fresh Indian street food dishes (appropriately called chat) and several different types of curries. It's very cheap (everything is under 5€), and you can even get a refreshing mango lassi to go with it for just 1.5€ more.
Sushi Gourmet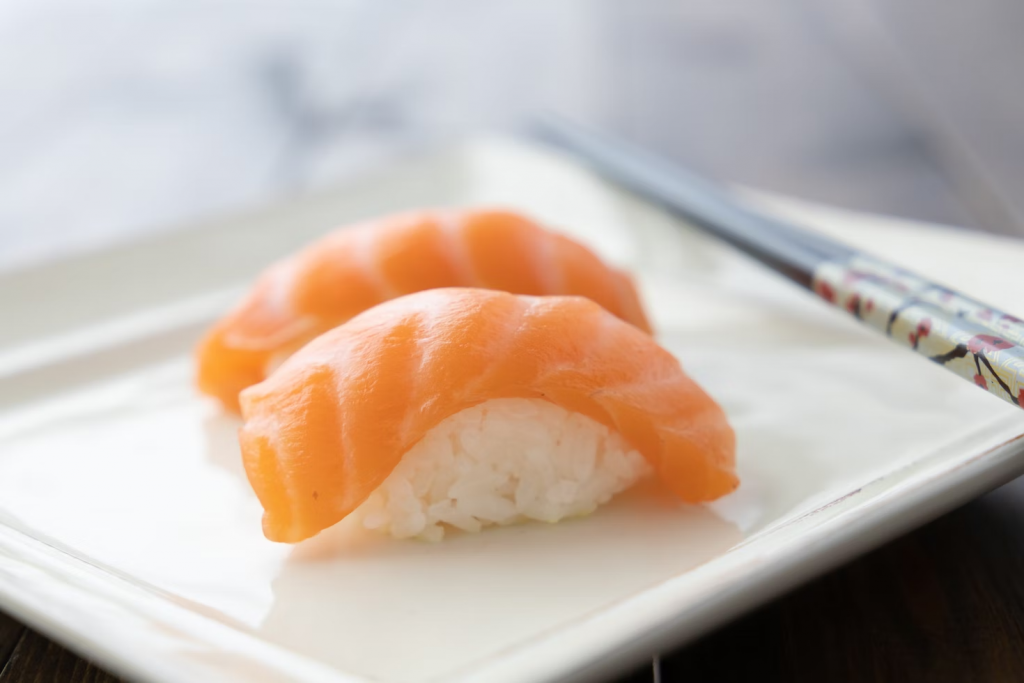 Karlstraße 56
We wouldn't usually recommend eating a place with 1€ sushi, but Sushi Gourmet is pretty amazing quality for the price! And to be fair, the sushi here clocks in around the 1.50 to 2€ mark. Don't expect a lot of glitz and glamour inside. They also have set lunch specials, noodle dishes, and other tasty nibbly appetizers as well—and ice-cold beer to wash them all down.
Türkitch
Several locations: Humboldtstraße 20, Bahnhofplatz 1, Feilitzschstraße 2, Türkenstraße 21
There are a lot (and we mean A LOT) of cheap kebap places in Munich. But Türkitch is by far the best. They load up the kebap with juicy turkey meat, grilled vegetables, mint, onions, tomatoes, lettuce, and a variety of yummy sauces you can choose from. You can also get your kebap with kofte (minced meatball), sucuk (spicy beef), and falafel or halloumi cheese. Kebaps are around 8 to 10€, so it's pricier than other joints – but worth every penny more. Come early because these places get packed at lunch and dinner time.
Bergwolf
Fraunhoferstraße 17
If you're wandering around Gärtnerplatz after a night of drinking, you (along with the rest of the tipsy barhoppers) will likely find solace at Bergwolf. This is a Munich institution for delicious late-night comfort foods – which, in this case, means sausage and french fries. There's also one vegan tofu dog option for any non-meat eaters. And they also have cheap beers and wine if you're not ready for the party to end.
Zum Koreaner
Amalienstraße 51
For cheap and hearty (although not super authentic) Korean food, head to Zum Koreaner in Maxvorstadt. They have a pretty impressive menu of dishes – all of which are mostly under the 10€ limit. Think pork belly, bibimbap, spicy tofu, and more. It's cash only – so don't forget to bring your bills and coins.
Royal Healthy Slices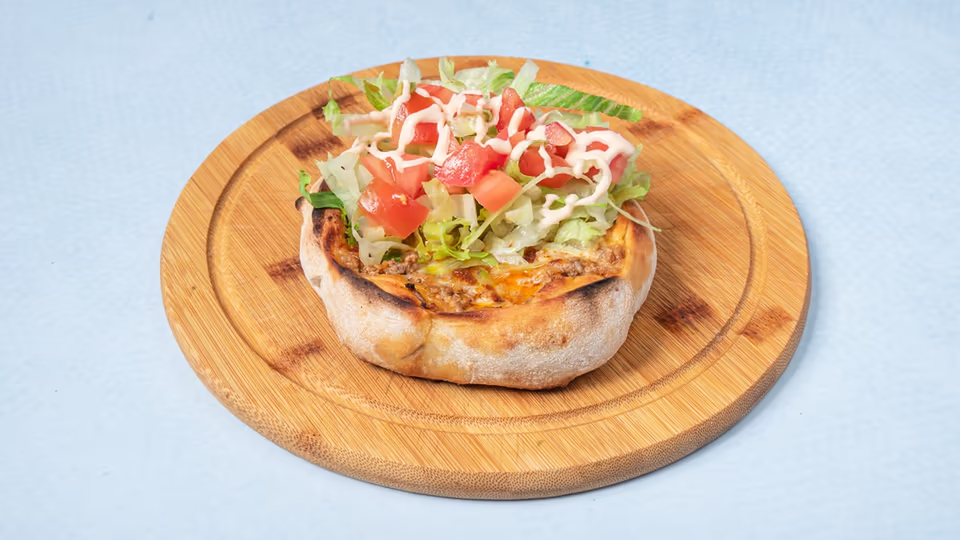 Hohenzollernplatz 4
If you've never tried Georgian food before – you are seriously missing out. This small to-go stall is run by a warm mother-and-son duo, and they serve some of the tastiest meals you'll likely have in Munich. They specialize in pita burgers and stuffed pitas, with options for both meat eaters and vegetarians. You'll have to take your food to go, but you can always sit in the sun of Hohenzollernplatz to enjoy it while it's hot.
Alles Wurscht
Nikolaiplatz 3
This adorable little snack bar/bistro is one of the cutest places to chow down on traditional German sausages. It's a small house-like building with a colorful courtyard with plenty of places to sit and rest. For the atmosphere and quality of the food, this place is a steal (most dishes are under 5€!). There are also vegan and vegetarian options as well. Plus, it's situated right in the middle between the Müncher Freiheit and Giselastraß U-bahn stations and just a few blocks west from the English Garden, so it's quick to reach wherever you're coming from.
Condesa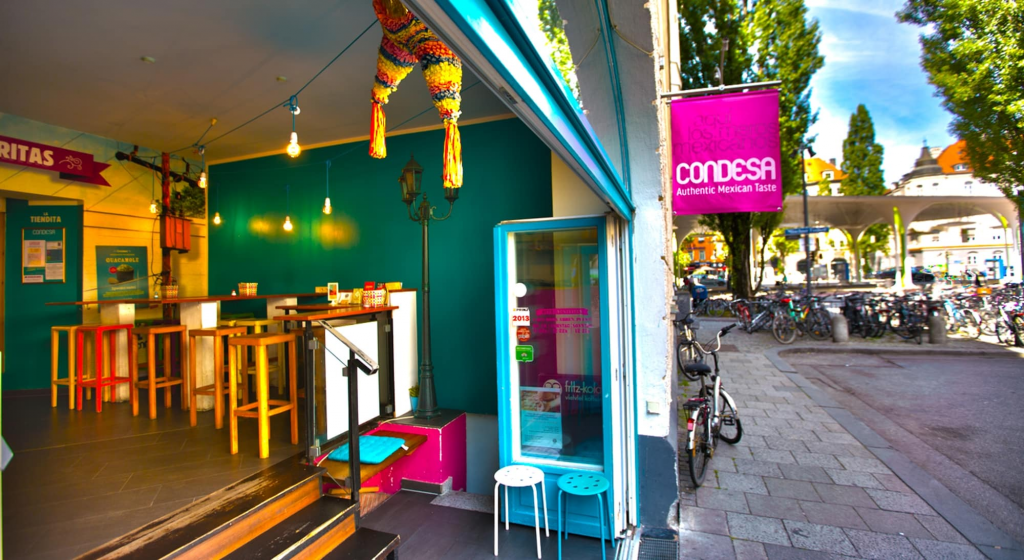 Several locations: Bahnhofplatz 5, Oberländerstraße 2, Münchner Freiheit 6
Finding decent Mexican food in Munich can be tricky, but thankfully, we have Condesa. This quick-service food place has three locations around the city and serves fresh Mexican food for dine-in or take-out. Simply order your dish (tacos, burritos, quesadillas, or salad), the type of meat, and the level of spiciness. Everything on the menu is pretty much under 10€ unless you decide to add any fancy extras like guacamole or sour cream.
Vietsoup
Westenriederstraße 8
About half of the dishes on the menu at Vietsoup are under 10€, including classic Vietnamese specialties like coconut chicken curry, beef in black pepper sauce, and many of their rice noodle dishes. Vegetarian dishes tend to be cheaper, while duck and shrimp options hover in the 11€ or 12€ range. You can also add a small appetizer-sized pho soup for just a few euros, which is something we haven't found anywhere else in Munich.
Make Falafel Not War
Kapuzinerstraße 2
Yes – the name is adorable, but is the food any good? You betcha. At this little spot in Ludwigsvorstadt, you can find a small selection of delicious pitas stuffed with halloumi, babaganoush, or the star of the show, the falafel. Each pita comes in around 5€ or 6€, but the larger plates will cost you more.
Munich Soup Kitchen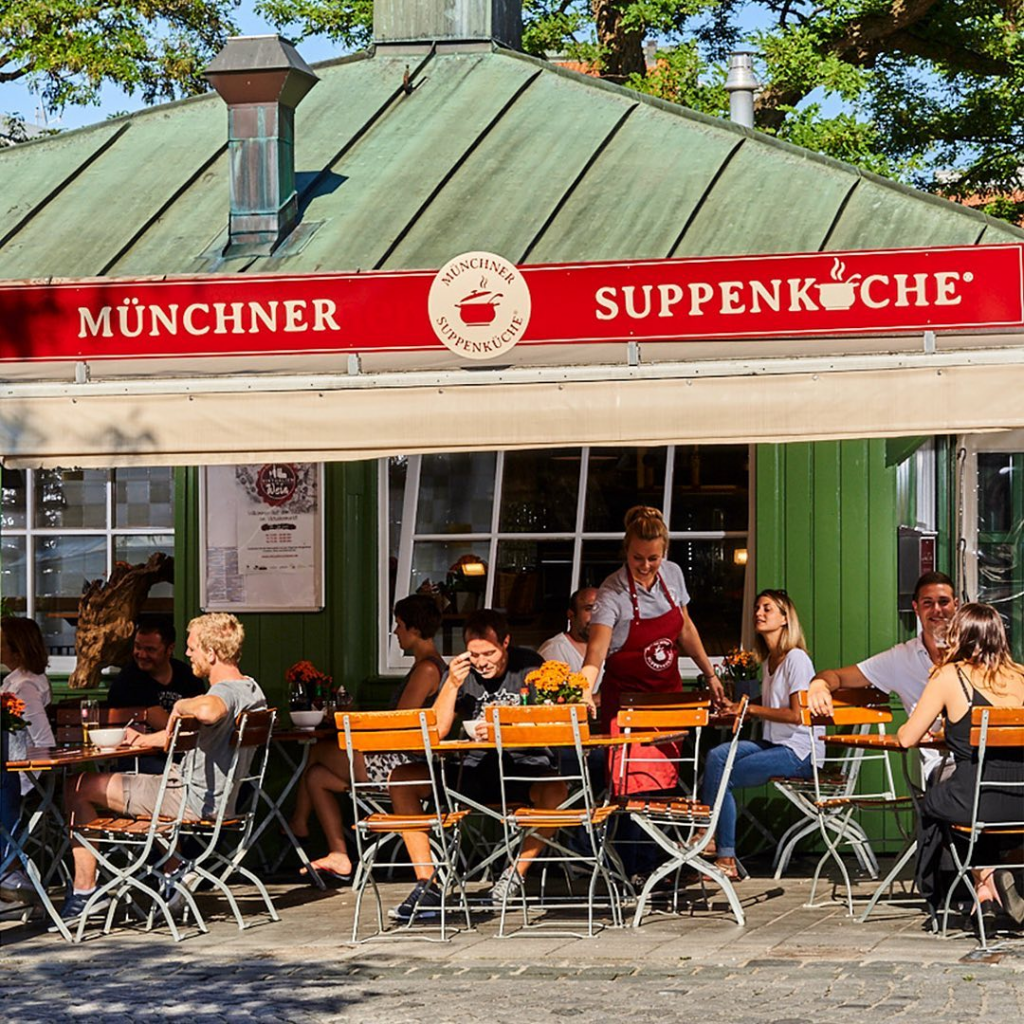 Viktualienmarkt 3
A beloved favorite of locals and tourists alike, the Munich Soup Kitchen is hard to miss if you're in Vitualienmarkt. Their menu of freshly-made soups changes daily, although you can expect at least ten or so types. Vegetable curry, chili con carne, carrot coconut, goulash – you seriously can't go wrong with anything you choose here. Perfect for a cozy autumn or spring lunch in between shopping.
Gyoza Bar
Augustenstraße 47
Who doesn't love dumplings? For just 7.50€, you can get eight delicious dumplings served with your favorite ingredients, including chicken, pork, beef, or veggies. And if you're feeling extra hungry, you can get 12 pieces for just 2€ more. Their wonton soup (which is also filled with dumplings) also costs under 10€, making this one of the best cheap restaurants in Munich.