Munich is a bustling cultural capital of Bavaria. And while there's plenty here to keep you occupied, it's worth venturing outside the city limits to one of the nearby small towns or picturesque villages. Taking a day trip outside of Munich is a great way to escape the crowds and experience a quieter and more authentic side of Bavarian (and German) culture.
And don't worry if you don't have a car! Thanks to Germany's fast and efficient public transportation system, all of the towns listed can be easily reached by train.
Mindelheim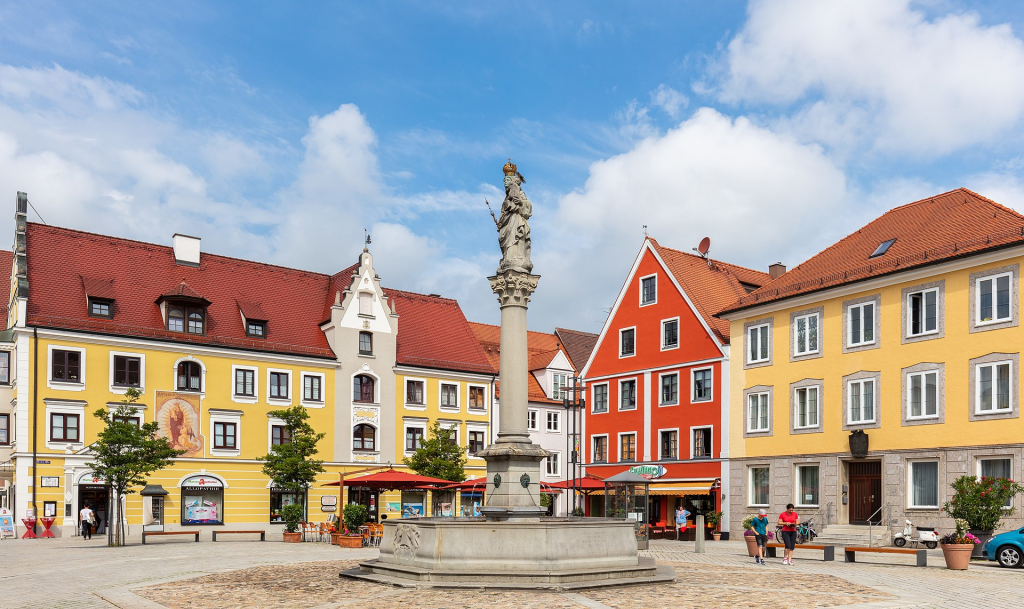 Just an hour west of Munich lies the colorful town of Mindelheim. This medieval settlement dates back to the 14th century and was at one point entirely surrounded by a city wall (you can still see some parts of it during your visit). Other must-see attractions include the Mindelburg Castle (there's a restaurant at the top), Jesuitenkirche Mariä Verkündigung (Roman Catholic Church), and the Mindelheimer Museum.
Distance: 87 km
Time: 1 hour by car or by public transportation
Rothenburg ob der Tauber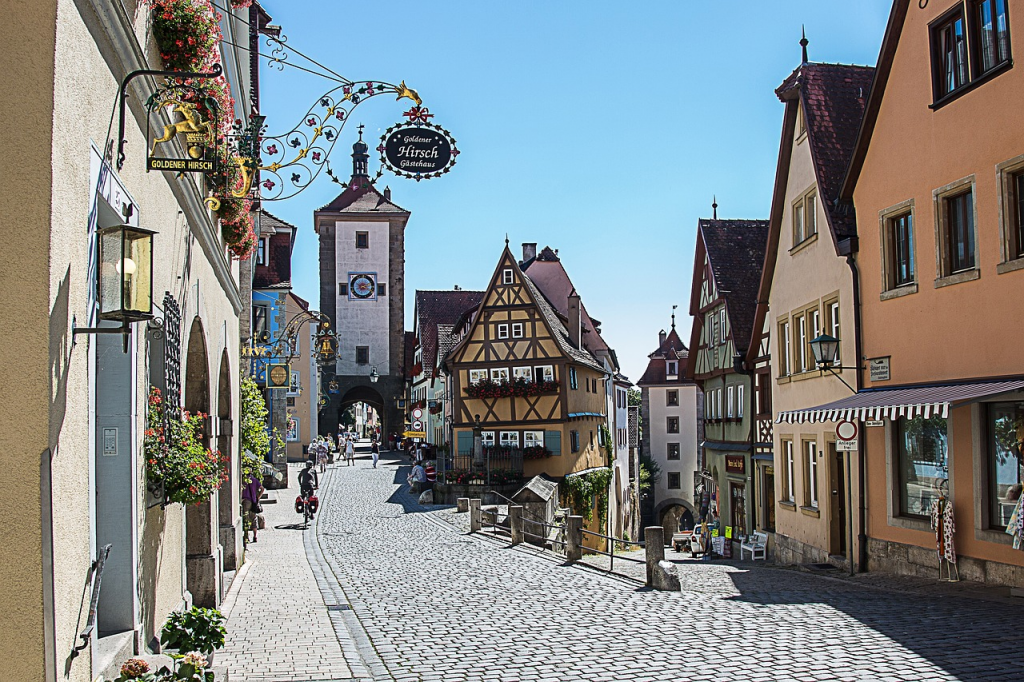 No list of charming German cities would be complete without mentioning Rothenburg ob der Tauber. With a prime location on Germany's Romantic Road, this medieval city is a photogenic labyrinth of cobblestone alleys, half-timbered houses, and fairytale-like shops. It's one of the more touristy villages in Bavaria (the Plönlein – as shown above – is Instagram famous), but definitely worth a stop at least once during your visit to Munich.
Distance: 255 km
Time: 2 hours and 45 min by car or 3 to 3.5 hours by public transportation
Regensburg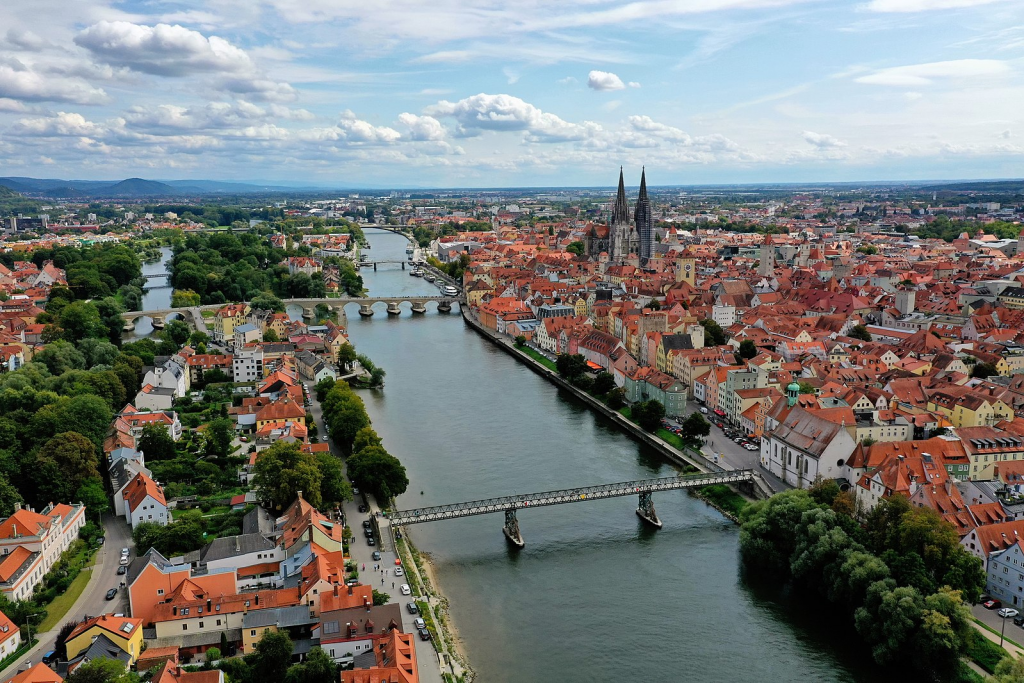 Dissected by the mighty Danube River, the UNESCO World Heritage-designated town of Regensburg is a great day trip from Munich. Marvel at the gothic Regensburg Cathedral, enjoy scenic river views from the 12th-century Stone Bridge, or simply indulge in an Aperol Spritz at one of the many cafes and bars. It's also home to three universities, so expect a lively and diverse student population.
Distance: 125km
Time: 2.5 hours by car or public transportation
Lindau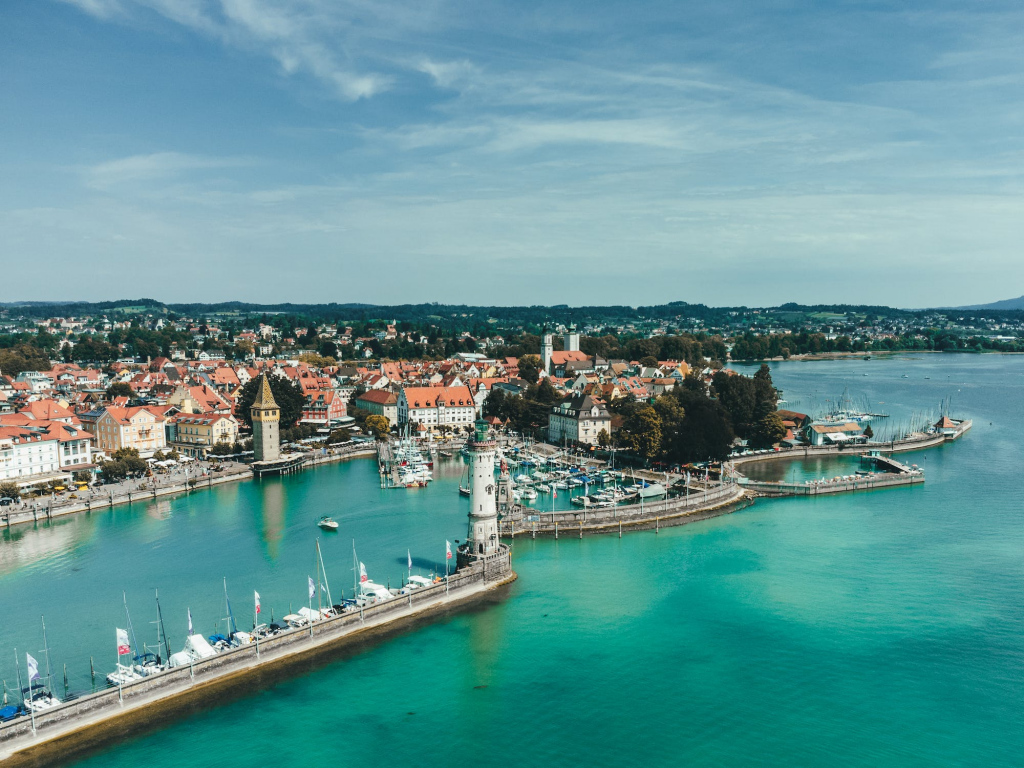 Lindau is a stunning island town situated on the eastern shores of Lake Constance, or as the Germans call it, der Bodensee. As with most other Bavarian towns, life is centered around the colorful medieval village (check out the architectural masterpieces of the Old City Hall, St. Peter's Church, and Haus zum Cavazzen). However, it's the scenic harbor that makes Lindau particularly noteworthy. Past the Lindau Lighthouse guarding the harbor entrance, you'll have panoramic views of the Swiss and Austrian Alps in the distance.
Distance: 181km
Time: 2 hours by car or 2.5 hours by public transportation
Garmisch-Partenkirchen
For a mix of history, culture, and nature, head to the Alpine town of Garmisch-Partenkirchen. Although it's a popular ski destination in the winter (it's next to the Ammergau Alps, Ester Mountains, and Wetterstein Mountains), the town itself has quite a few notable attractions, especially along the historical street of Ludwigstraße. Visit the Werdenfels Museum, St. Martin's Church, or, if you're feeling lucky, the Casino Garmisch-Partenkirchen. And if you have time, taking the cable car to the top of Germany's highest mountain (Zugspitze) is a must.
Distance: 90km
Time: 1 hour by car or 2 hours by public transportation
Passau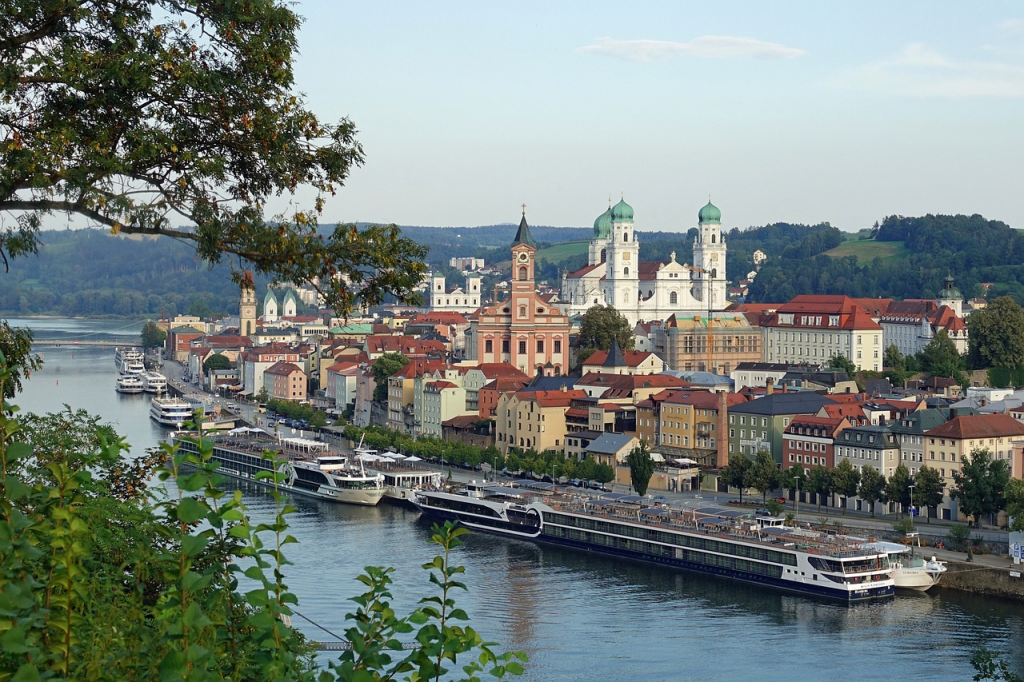 Located near the Austrian border, Passau sits at the confluence of three different rivers – the Danube, Inn, and Ilz. Take a boat tour to enjoy the city views, or stroll along the waterfront promenade for a bit of fresh air (there are also plenty of restaurants and cafes along the way where you can stop for a drink or bite to eat). If you're interested in historic sites, you can visit St. Stephen's Cathedral, the Veste Oberhaus fortress, or the riverfront Schaiblingsturm tower.
Distance: 193km
Time: 2 hours by car or public transportation
Bad Tölz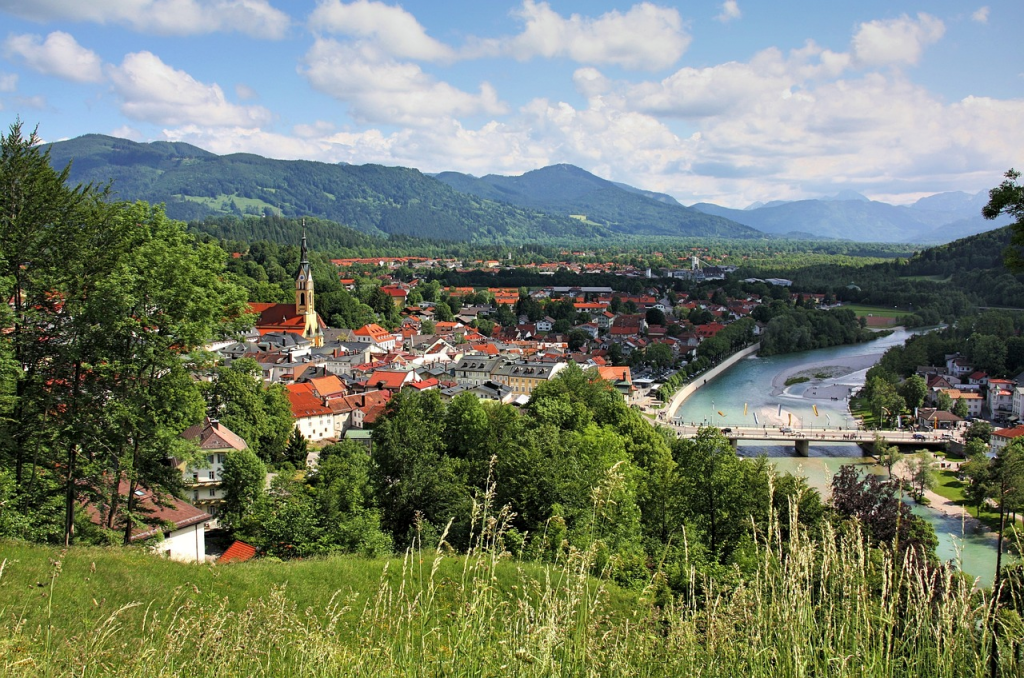 A true Bavarian village, Bad Tölz makes a lovely day trip for those visiting Munich. The main street (Marktstraße) is lined with unique frescoed buildings that are home to German restaurants, ice cream parlors, and boutique retail shops. On a warm day, you can also walk along the Isar River (make sure to bring beers or a picnic because there are plenty of grassy spots on the bank). The area around Bad Tölz is also famous for its thermal baths – making it a prime destination for anyone craving a bit of rest and relaxation.
Distance: 57km
Time: 1 hour by car or public transportation
Marktbreit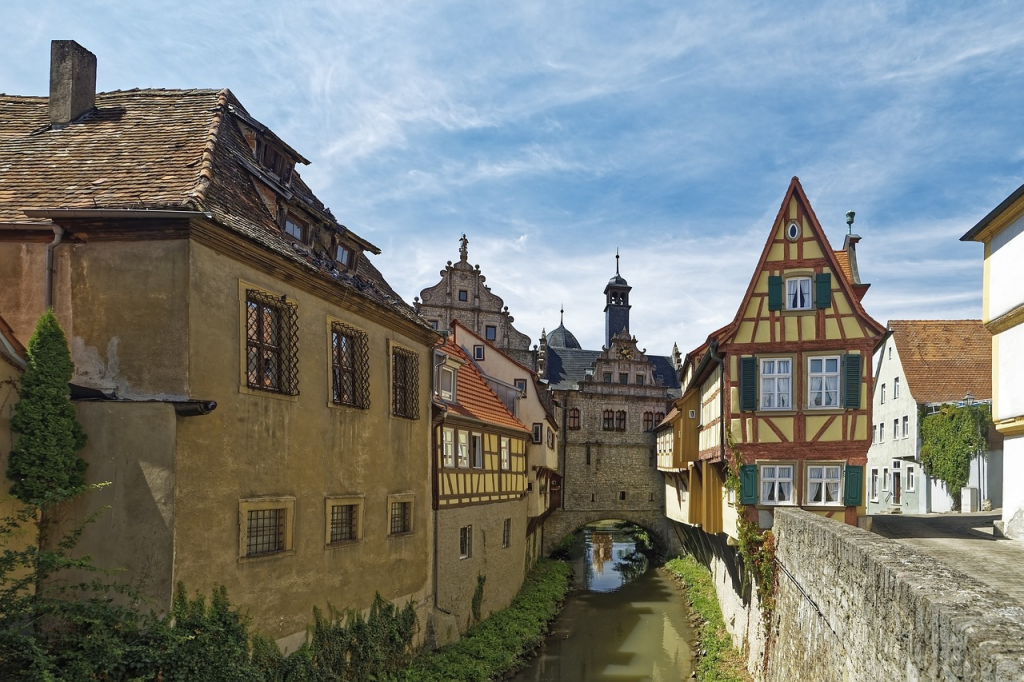 The enchanting town of Marktbreit is a dreamy destination that has managed to remain undiscovered by tourists. The well-preserved streets of half-timbered houses, colorful facades, and charming squares will make you feel as if you've been transported back to the middle ages. And as you're in the wine-loving region of Franconia, you'll find numerous wine shops and restaurants serving some of the best bottles in Germany (Müller-Thurgau and Silvanar are the most popular here). It may be one of the longer day trips from Munich, but worth it if you have extra time on your hands!
Distance: 273km
Time: 3 hours by car or 4 hours by public transportation
Blaubeuren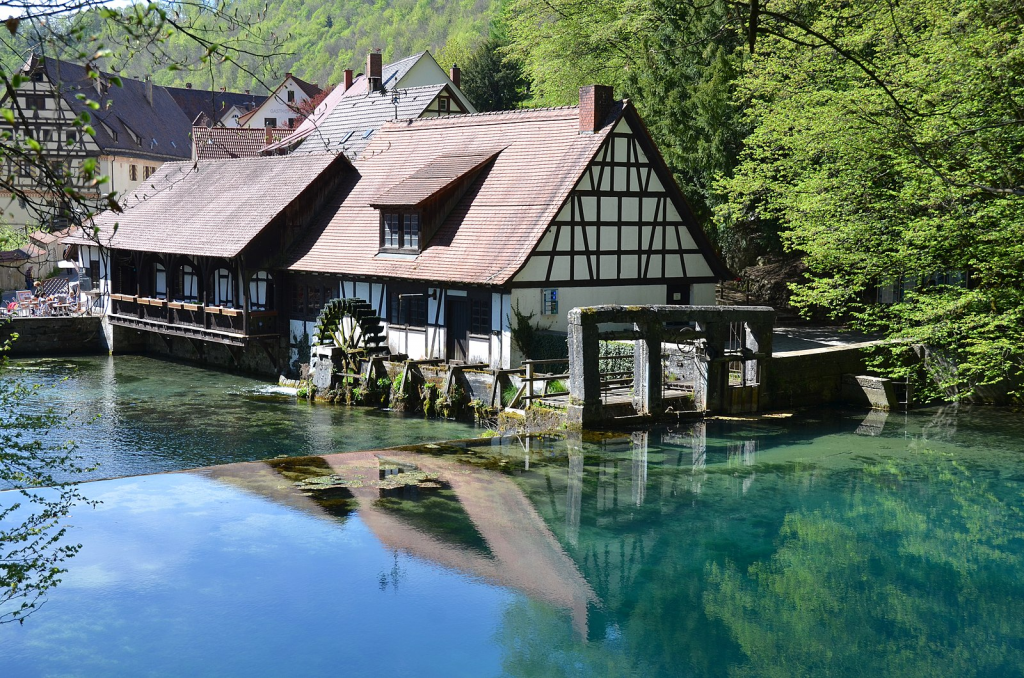 Hop over state lines to Baden-Württemberg to visit Blaubeuren, a beautiful small town famous for the Blautopf, a turquoise blue pond with translucently clear waters. You can come here just to admire the natural beauty (there's a walking trail that leads around the spring), although it's worth heading into town for a little sightseeing as well. In the old town, you can explore the Market Square (Marktplatz), visit the St. Peter's Church, or see the Gothic Blaubeuren Abbey before trying some authentic Swabian food at one of the many local restaurants.
Distance: 166km
Time: 1 hour 45 minutes by car or 2 hours by public transportation