Nestled amidst the sprawling scenic landscapes of Bavaria, Munich serves as an ideal jumping-off point for exploring some of the best lakes in the region. From the laid-back beaches of Starnbergersee to the magnificent beauty of Chiemsee, these lakes near Munich offer a refreshing escape from bustle of urban life.
Get ready to immerse yourself in nature's tranquility, indulge in water activities, and uncover the hidden gems that make these lakes near Munich a true haven.
Starnberger See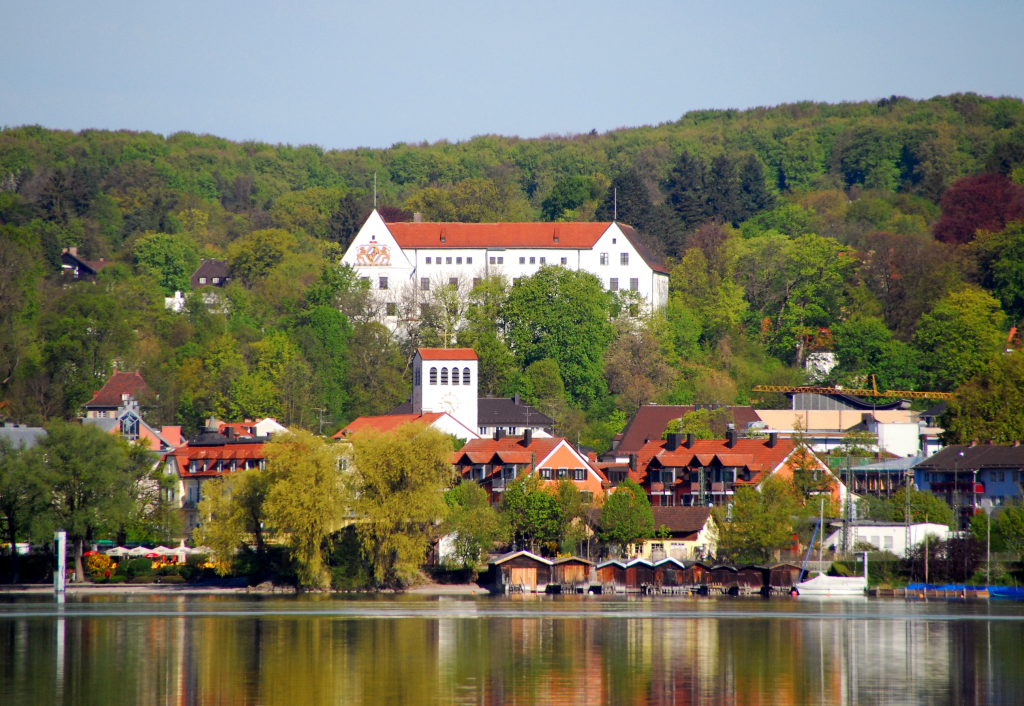 As one of the closest lakes to Munich, Starnberger See makes an easy day trip for those looking to beat the heat. Clocking in at 56 sq km, it's Germany's second-largest freshwater lake and a paradise for boaters, stand-up paddleboarders, and swimmers. In the middle of the lake sits the Roseninsel, an island with a villa that once belonged to King Ludwig II (it's now a museum that you can reach via ferry).
If you're traveling by train, you'll likely get off in Starnberg, the main town at the top of the lake. However, it's also worth visiting the other lakeside villages of Seeshaupt, Bernried, Tutzing, and Feldafing. In Starnberg, you'll find many restaurants, shops, water sports rentals, and the launching point for the Bayerische Seenschiffahrt scenic boat ride.
How to Get to Starnberger See
By Car: 35 minutes
By Public Transportation: 30 minutes – take the S-Bahn train line 6 via Starnberg to Tutzing
Tegernsee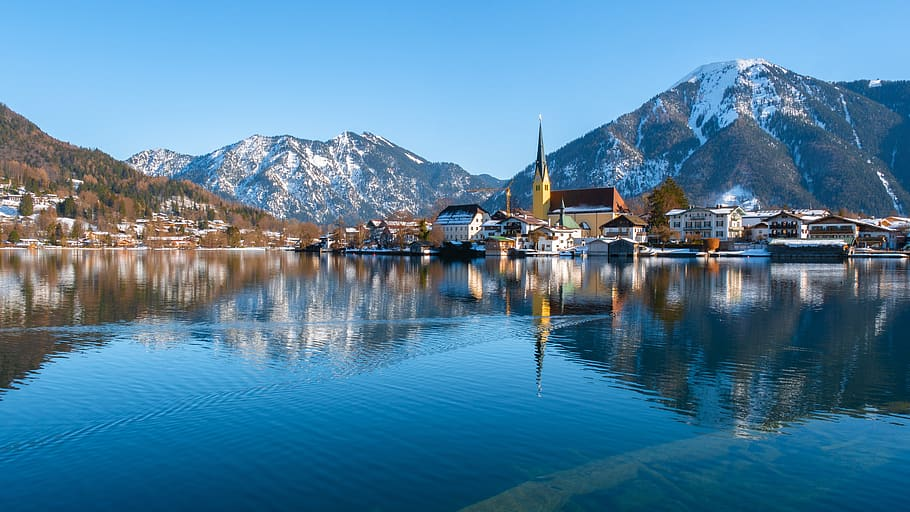 Located in the Bavarian Alps, Tegernsee is famous for its breathtaking natural beauty. Between the lush forests and soaring mountain peaks, it's the picture-perfect example of what a true Bavarian landscape should look like. Adventure lovers can spend the day on the hiking trails or boating around the lake, while cultural seekers can enjoy the quaint cafes and traditional beer gardens in the main town (also called Tegernsee).
How to Get to Tegernsee
By Car: 1 hour
By Public Transportation: 1 hour – take the regional RB 57 train toward Tegernsee
Chiemsee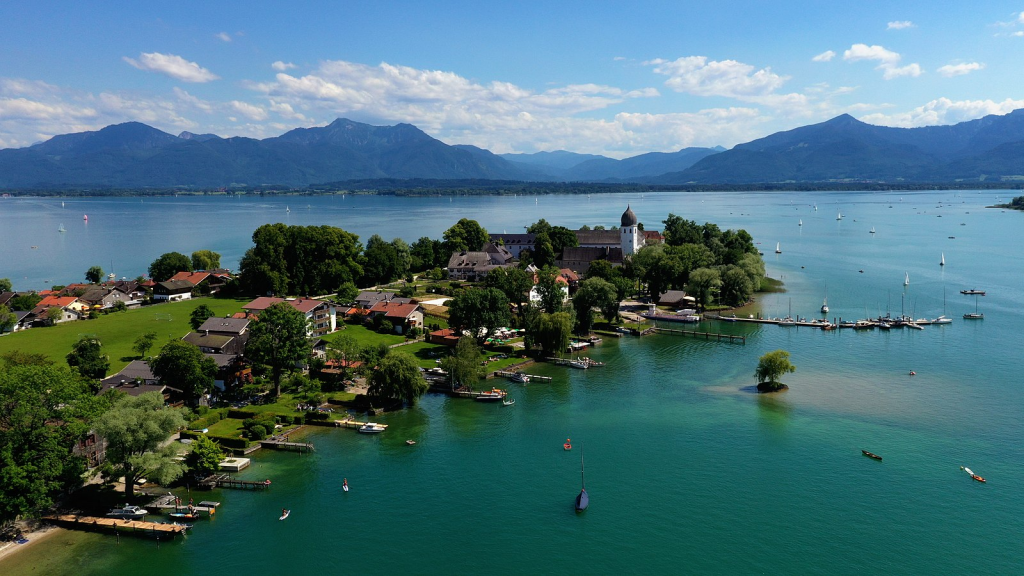 The beautiful Alpine views from Chiemsee are just one of the many reasons to visit on a day trip from Munich. The lake is also home to Herrenchiemsee Palace, a breathtaking villa modeled after the Palace of Versailles that was built by King Ludwig II. It's located on Herreninsel, which you can reach by taking the scenic boat from the town of Prien am Chiemsee. The boat also continues to Fraueninsel, another small island with a Benedictine nunnery and charming Bavarian restaurants and cafes.
If you'd rather spend the day in the water, then Chiemsee also makes an excellent spot for swimming, sailing, or electric boating.
How to Get to Chiemsee
By Car: 1 hour
By Public Transportation: 1 hour – take the regional RE 5 train toward Salzburg
Königssee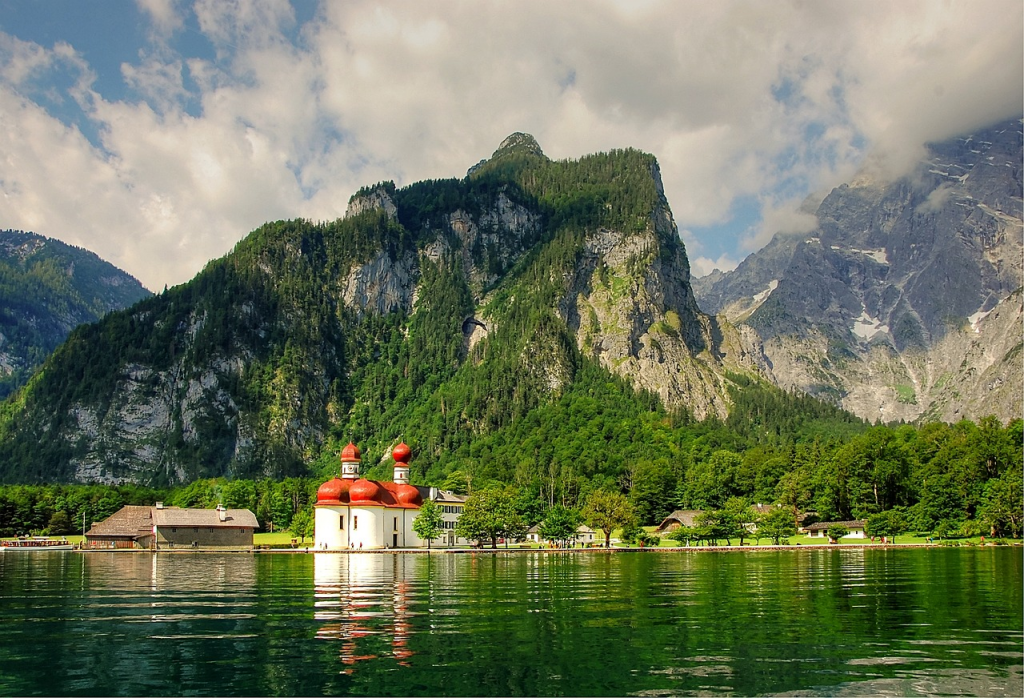 Head to the southwestern corner of Germany, and you'll find Königssee – one of the most beautiful lakes in all of Germany (it's located in Berchtesgaden National Park, after all!). The emerald-green lake is surrounded by mountains and forests, which gives it a unique fjord-like appearance.
One of the main attractions at Königssee is the boat ride (definitely do this if you're visiting). Boats make a stop at "Echo Wall," where employees play trumpets so you can hear the sound reverberating off the mountains. From there, it makes a stop at St. Bartholomew's Church on the western shore. The only way to visit this landmark is by boat or by hiking across the mountains.
How to Get to Königssee
By Car: 2 hours
By Public Transportation: 3 hours – take the regional train to Salzburg > transfer to 840 bus to Berchtesgaden > take the 841 or 842 bus and get off at Schönau am Königssee.
Obersee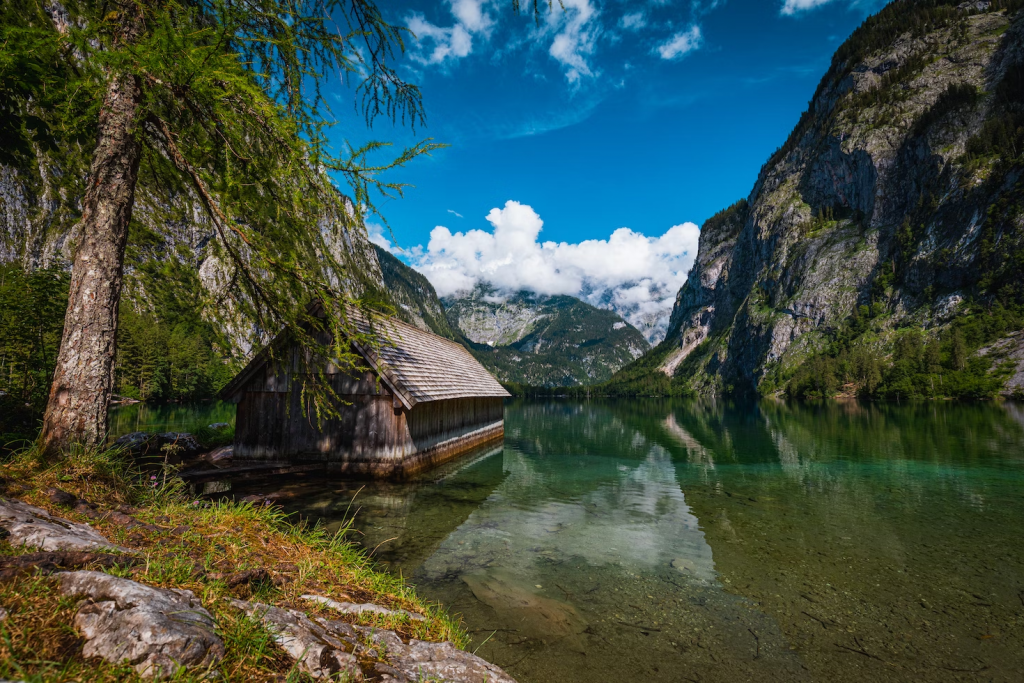 Also located within Berchtesgaden National Park, Obersee is the smaller but equally as beautiful cousin to the famous Königsee. But if you want to see this sparkling gem yourself – be prepared for a long journey. You'll first need to take the Königsee boat to Salet before embarking on an 8km hike to the lake. There is a nice little restaurant on the lake (Fischunkelalm) where you can refuel before heading back.
How to Get to Obersee
By Car: 2 hours to Königssee + boat and 8km hike
By Public Transportation: Take the regional train to Salzburg > transfer to 840 bus to Berchtesgaden > take the 841 or 842 bus and get off at Schönau am Königssee (around 3 hours). Take the boat and then 8km hike to Obersee.
Walchensee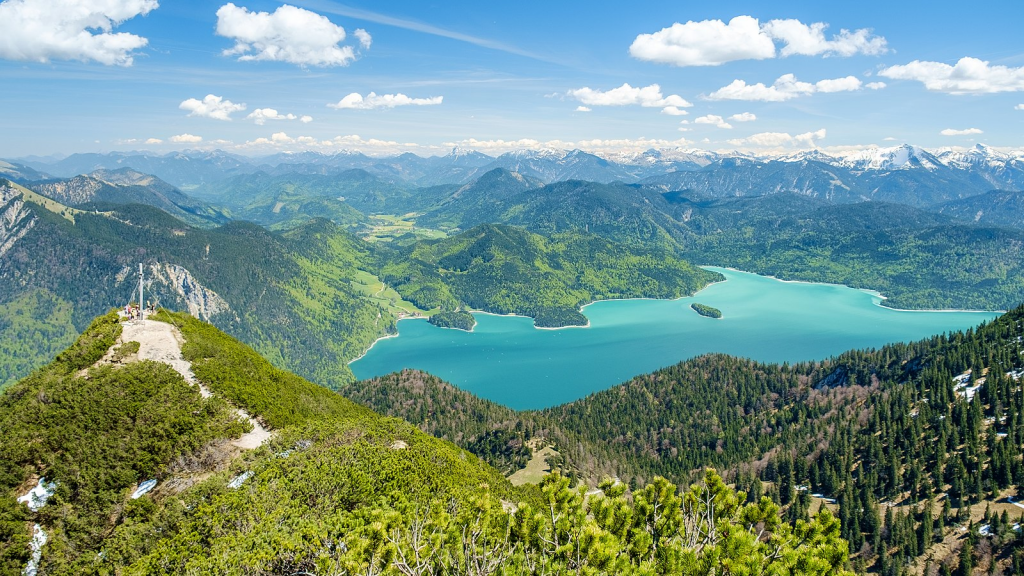 If you're a fan of outdoor adventure, then Walchensee makes a great day trip from Munich. As one of Germany's largest and deepest lakes, the waters are perfect for swimming, sailing, and windsurfing. It's also possible to go scuba diving (you'll find sunken boats, a recreation of Stonehenge, and even a vintage VW bug underwater!).
Walchensee can also be visited in winter, thanks to the numerous mountain slopes for skiing, snowboarding, and cross-country skiing.
How to Get to Walchensee
By Car: 1 hour
By Public Transportation: 3 hours – you'll need to get to Kochel (you can take the bus from Tutzing or Bad Tölz), then transfer to the 9608 bus to Walchensee Ortsmitte.
Ammersee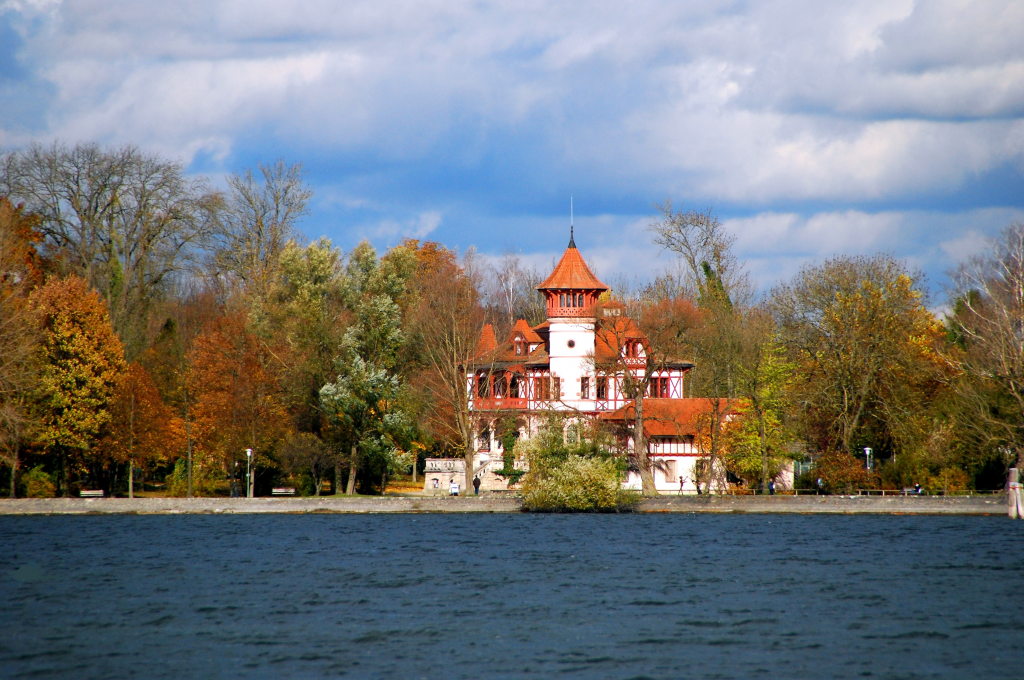 Whether you're into swimming, boating, or village hopping, you can't go wrong with a day trip to Ammersee. Park or get off the train in Herrsching, a charming town with delicious restaurants and cute boutique shops. From here, you can rent boats or take the scenic ferry across the lake.
Because of its close proximity to Munich, Hersching can be quite crowded. If you are looking for a quieter town around the water, check out Utting or Diessen.
How to Get to Ammersee
By Car: 1 hour
By Public Transportation: 50 minutes – take the S-Bahn train line 8 to Herrsching