If you love a good cocktail or stein of beer, Munich is a great city for you. With a strong drinking culture heavily embedded in the Bavarian lifestyle, it's only fitting that the city has tons of fun date ideas for people who want to get a little tipsy. So if you want to impress your significant other (or simply pray that their rose-tinted glasses make them like you a bit more), then check out the following awesome alcohol-related date ideas.
Wineslingers Wine Tasting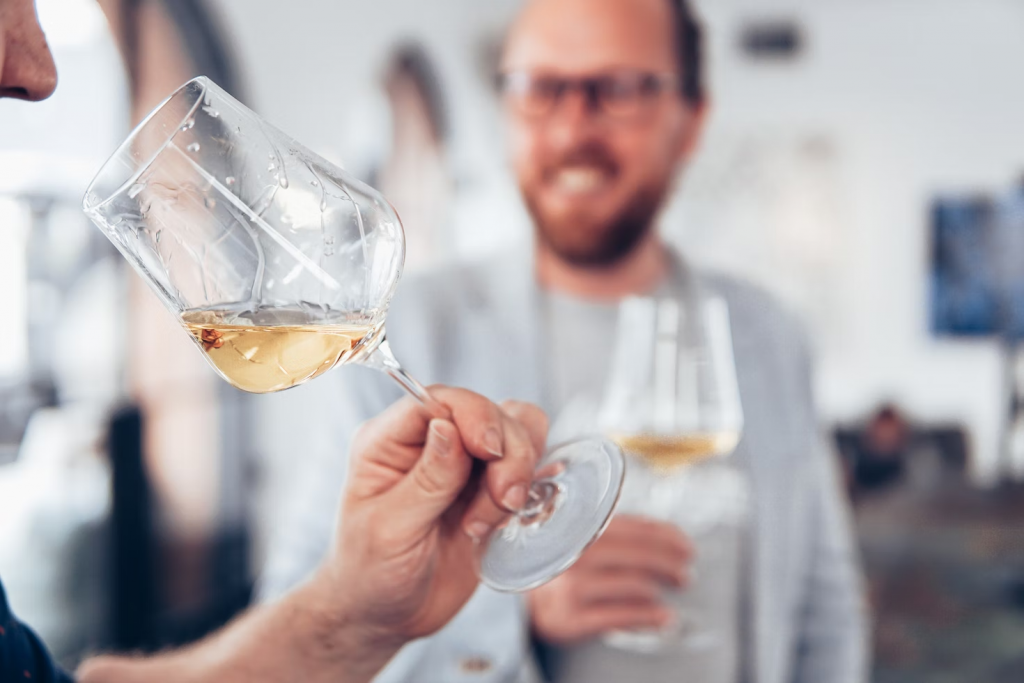 Looking to sample some of the tastiest wines from Germany and Europe? Then book a seat at one of Wineslinger's wine-tasting events. They have so many different events, like Wine and Games Night, Germany vs. Italian wine tasting, and our favorite, Bubbles Bitte! While most classes are in German, they do have occasional classes in English as well.
Jazz Brunch at Alte Utting
Just because it's daytime doesn't mean you can't get a little sloshed over some brunch! At Alte Utting, the decommissioned ship-turned-bar, you can enjoy live music and delicious food on select Sunday afternoons. Delicious crepes (sweet and savory), incredible live bands, and a glass of prosecco or Aperol spritz are guaranteed to start the day (and your relationship) off on the right foot.
Check their website for exact dates and times.
Looking for other boozy brunch venues in the city? Then check out the following places in Munich:
The Botanista Café Club (bottomless mimosas for 18 EUR)
Mary's Garden Club
Max Emanuel Brauerei (bottomless mimosas for 28.50 EUR)
Catwalk Bar Restaurant Café
Café Reitschule
Park Cafe
La Boheme (all you can eat and drink!)
Paulaner Brewery Tour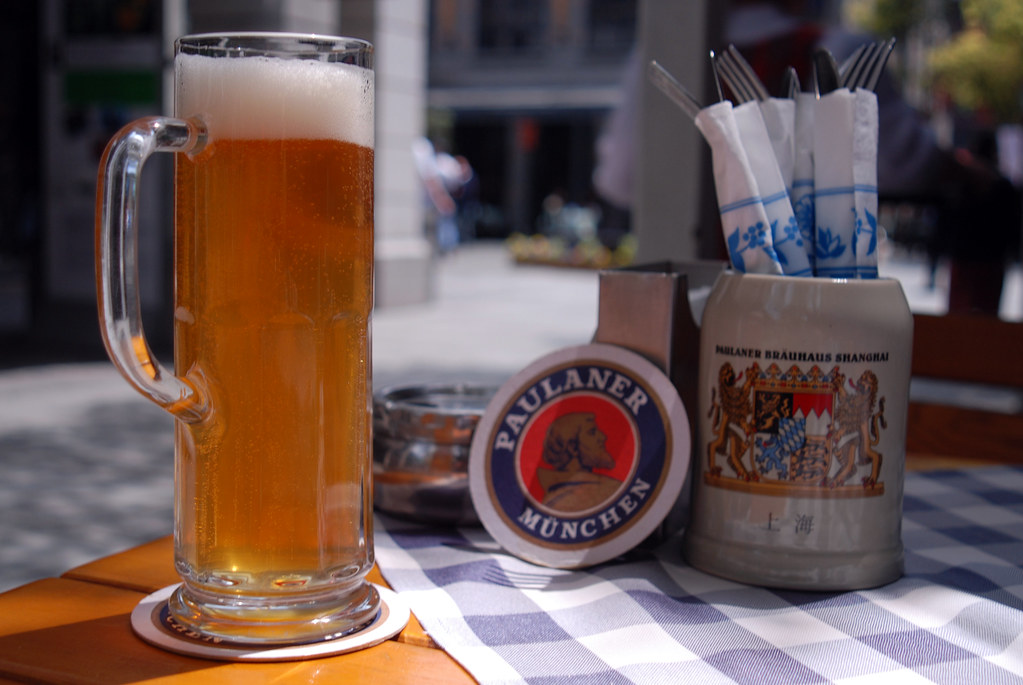 Sure – you've been to the beer garden, but have you ever wondered what goes on behind the scenes? Paulaner Brauerei is Munich's oldest existing brewery, and they offer tours of their malt room, copper kettle room, fermentation room, and more! And what would be a tour without tasting the goods? Tours also include a beer tasting and pretzel. Reserve your spot directly at Paulaner or with Munich Walk Tours.
Karaoke at Yokocho
Belt out your favorite tunes with your sweetheart by your side at the Japanese-themed Yokocho Karaoke Bar. Here, you can rent a private karaoke booth for anywhere from 2 to 10 people. And if you get thirsty, all you have to do is press a button, and your server will come to you! For those who miss the traditional karaoke experience, Yokocho also has a public stage where you can wow all the other guests in the bar with your songbird voice.
Booths book out quickly, so reserve yours online prior to your date.
Drinking in a Ferris Wheel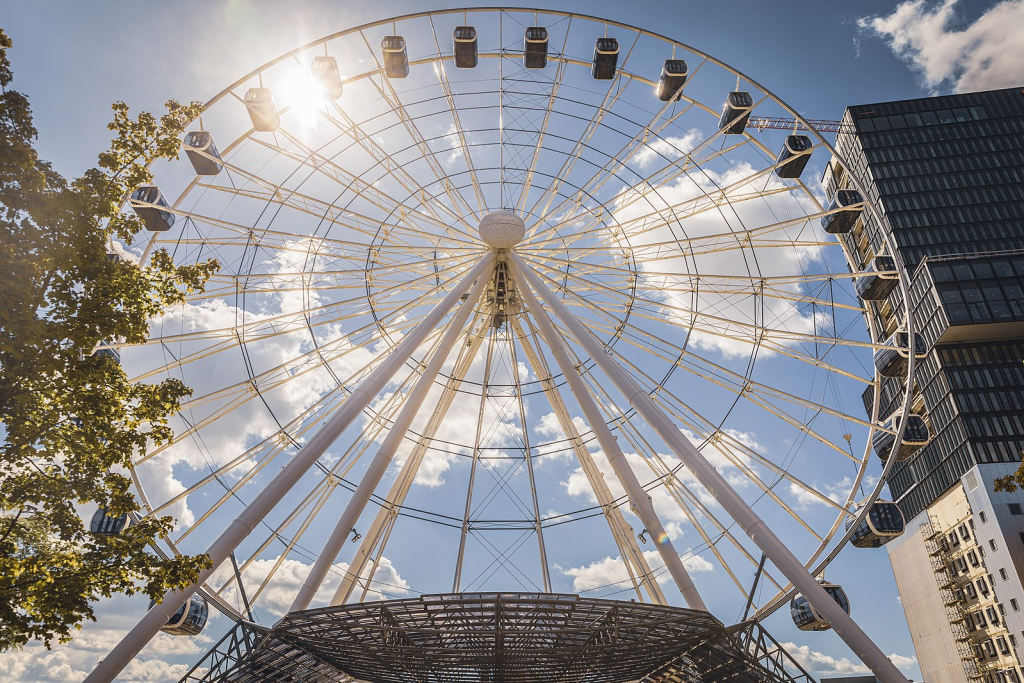 It's hard to miss the Hi-Sky München (Umadum) dominating the city skyline. This Ferris wheel near Ostbahnhof (East Station) is a great date idea for anyone who wants a bird's-eye view over the city as well as the Alps. You can book a ticket for a shared gondola, or go all out for your special date and reserve the whole thing! Snacks and drinks are available for purchase, although there are different packages (how about white sausage and Weißbier?) that you can order as well.
Munich Beer and Bites Tour
Even if you're a local, you'll love wandering around the city on this Beer and Bites Tour to sample the best of what Munich has to offer. For 3.5 hours, your knowledgable guide will take you to three non-touristy breweries, where you'll be treated to the three Bs – Bier, Bretz'n, and Brotzeit! Tours are conducted in English, so feel free to come without any prior knowledge of the German language!
Visit the Beer and Oktoberfest Museum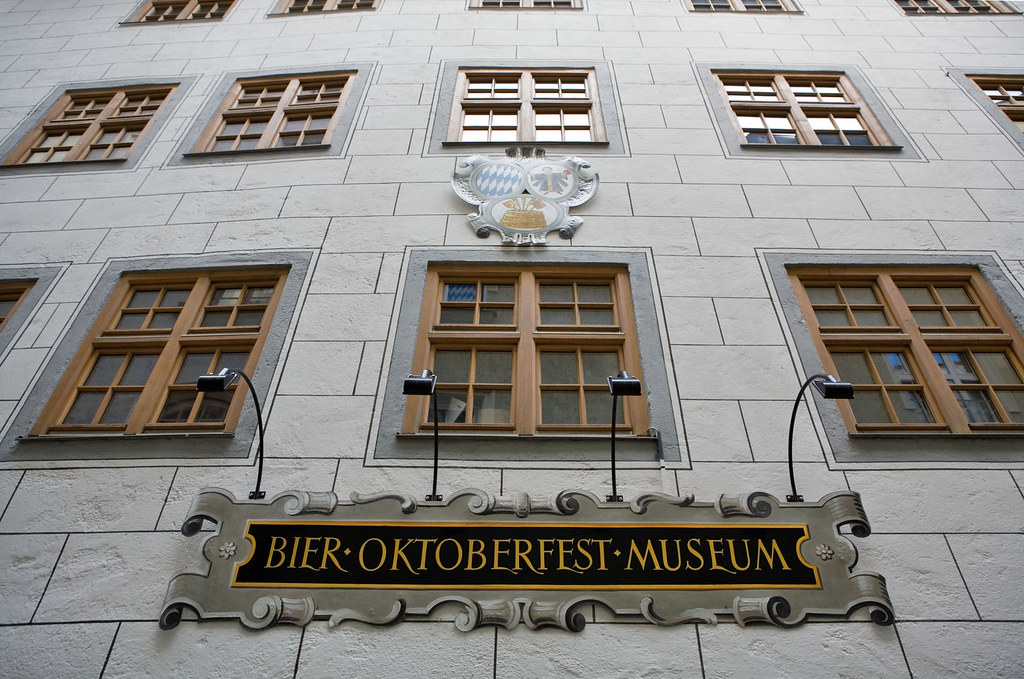 Why just spend your date drinking when you can learn a little something as well? At the Beer and Oktoberfest Museum, you'll dive deep into the history of German beer. How is it made? What is the Purity Law? And how the heck did Oktoberfest become as big as it is? And if all those questions make you thirsty – good! There's a beer tasting that you can do here as well.
Drinks and a Movie
Sometimes, all it takes is a classic date night to impress your sweetie-pie. But instead of drinks before a movie, why not take them out for drinks WITH a movie? The Monopol Kino is one of the smaller theaters in Munich, but we love the intimate vibe and charming atmosphere that comes with it. They show quite a few movies in English (look for the Original Version OV sign on their website), which is a huge plus for non-native speakers. You can grab a drink in the little bar before the movie starts, although you're also free to bring them into the theater.