Despite what most people think, Munich isn't all about Biergartens and Wirtshauses! This metropolitan city is also a buzz with some of the most creative and unusual dining and drinking spots in the country. So whether you're looking for a unique date night idea or a quirky place to try new cocktails, Munich has you covered.
Here are some of the coolest, weirdest, and most unusual themed restaurants and bars in the Bavarian capital of Munich!
Teatro
Graf-zu-Castell-Straße 10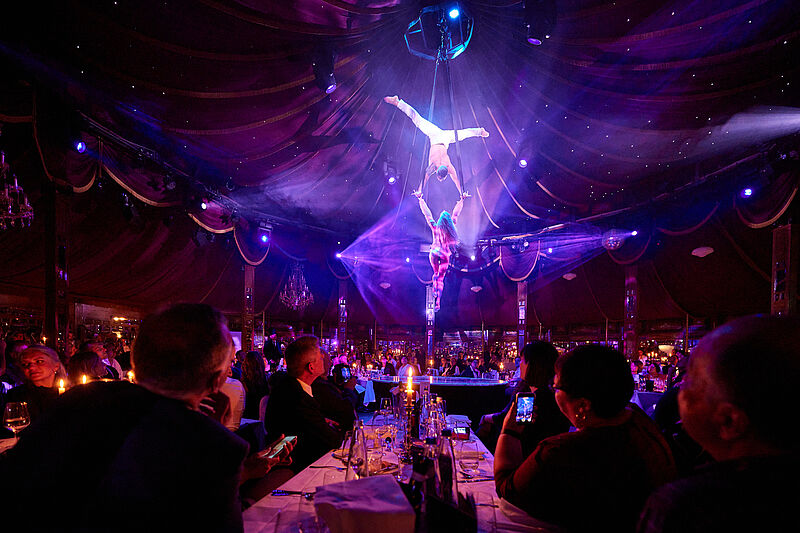 Equal parts dinner, cabaret, and circus, the interactive Teatro dinner experience is unlike anything else in Munich. Shows take place inside a swanky tent (decked out in velvet decor and Swarovski crystal chandeliers) and combine dancing with acrobatics and live music. Tickets are not cheap by any means (47€ – 137€), although you can save money if you opt out of the 4-course dinner menu, which is an additional 52,90€.
Zum Blinden Engel
Brudermühlstraße 10
Dining in the dark is a fun concept that can be found in most major cities in the world. But even the locals are unaware that Munich also has one of these dark restaurants! Zum Blinden Engel offers a 4-course menu served by a blind or partially sighted waitstaff. The food can be a hit or miss, although you're not coming here for a culinary extravaganza. It's really the unique atmosphere and top-notch staff that will win a place in your heart.
DinnerHopping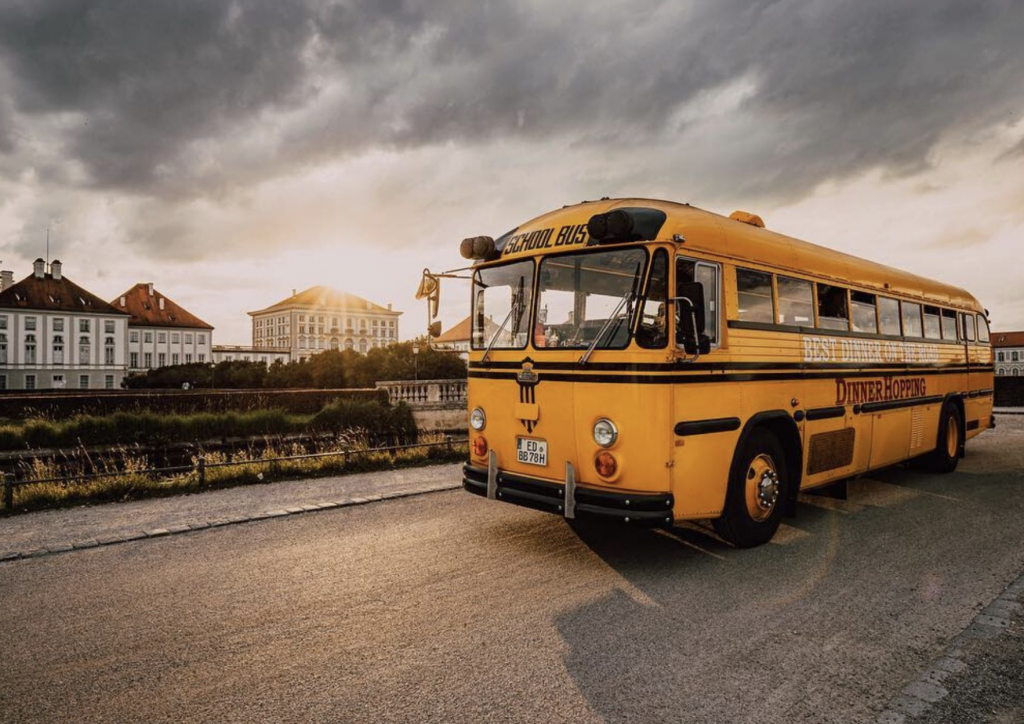 Hop aboard a vintage American school bus and explore some of the best restaurants that Munich has to offer. Depending on which experience you book, you'll be taken to different spots around the city, where your polite waitstaff will bring the meal to you (yes – you actually eat inside the retrofitted school bus). Experiences are themed (think Italian, Bavarian, or American cuisine), and many include entertainers, singers, or even magicians.
Savanna
Maistraße 63
Calling all adventurous eaters! Germans may be open to eating wild game, but Savanna takes it to an entirely new level. This South African-themed restaurant whips up some pretty unique dishes, including Cheesy Garlic Snails, Juicy Ostrich Burgers, Grilled Crocodile Fillet, and so much more. If you can't decide which exotic meat to try, order their Adventure Appetizer Platter, which comes with a smattering of everything weird and wild. Of course, they also have numerous options for vegetarians, vegans, and traditional beef and chicken eaters too.
Trader Vic's
Promenadepl. 4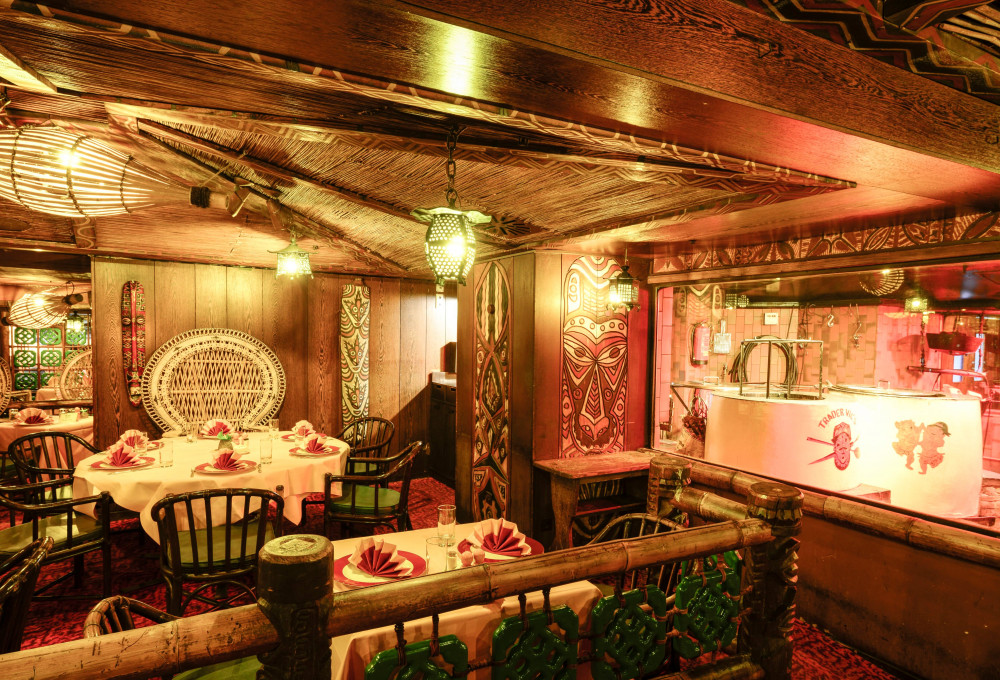 Located inside the posh Bayerischer Hotel, Trader Vic's is like taking a trip down to the tropics. This Polynesian-themed restaurant is like a tiki bar on steroids, with hand-carved wooden furnishings, colorful bamboo decor, and exotic dishes that are guaranteed to delight your taste buds. It's worth stopping by just for drinks, as they have some delicious tropical cocktails, including a few "cocktail bowls" that can be shared with friends and family.
CALL SOUL – Breaking Bar
Biedersteinerstraße 6
If you're a fan of Breaking Bad or Better Call Saul, then this little cocktail joint near the English Garden is a place you won't want to miss. The decor is more whimsical than meth-labby, and the drinks are some of the most creative we've seen in Munich. The menu looks like a periodic table of elements, with concocted cocktails served in beakers, skull-shaped mugs, lightbulbs, and mini hazardous waste bins. The food menu is small and mainly limited to tacos, but worth a bite if you're feeling peckish.
Alte Utting
Lagerhausstraße 15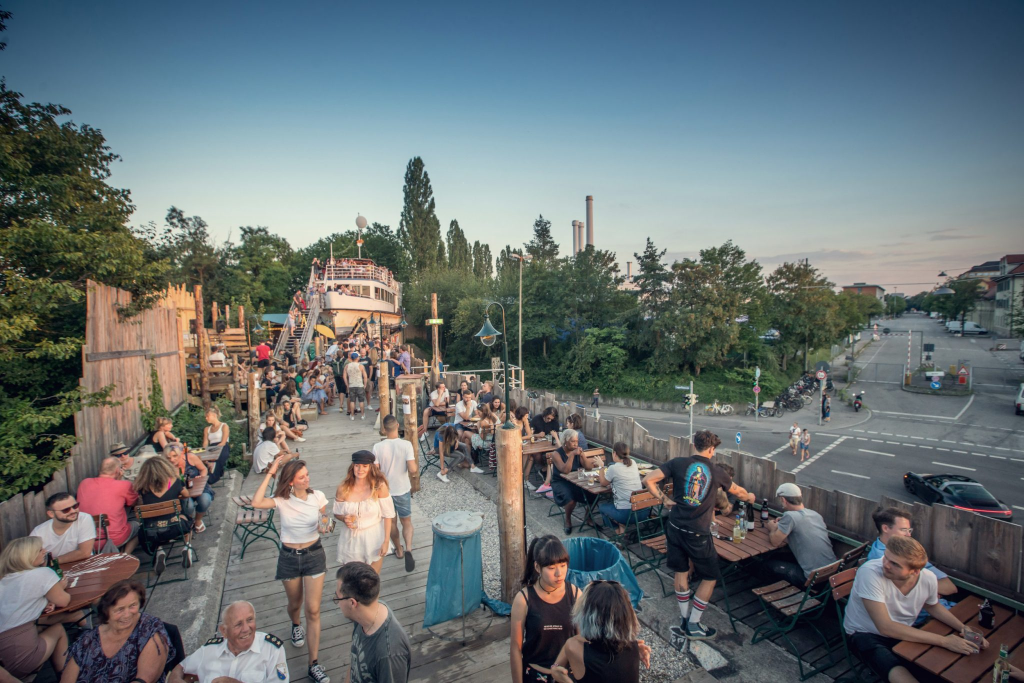 Munich may not be by the sea, but that doesn't mean you can't spend an afternoon on a boat! Alte Utting is a former steamer ship that has been propped up on a bridge and converted into a little bar and cafe. It's open year-round, so you can sunbathe on the deck in summer or huddle up in the old engine room in winter. They also host different events throughout the year, from art exhibitions and lecture speakers to live music and jazz brunches.
Pils Doktor
Leopoldstraße 124
While Pils Doktor may look like a typical dive bar at first glance, it does have one unique feature that makes this one of our favorite places to drink. All you have to do is order the Apfelkorn, a sweet apple-flavored schnapps. Once ready, the shots will be delivered to your table by a model train, which chugs along a track that encircles the bar.
Stammbar
Schellingstraße 59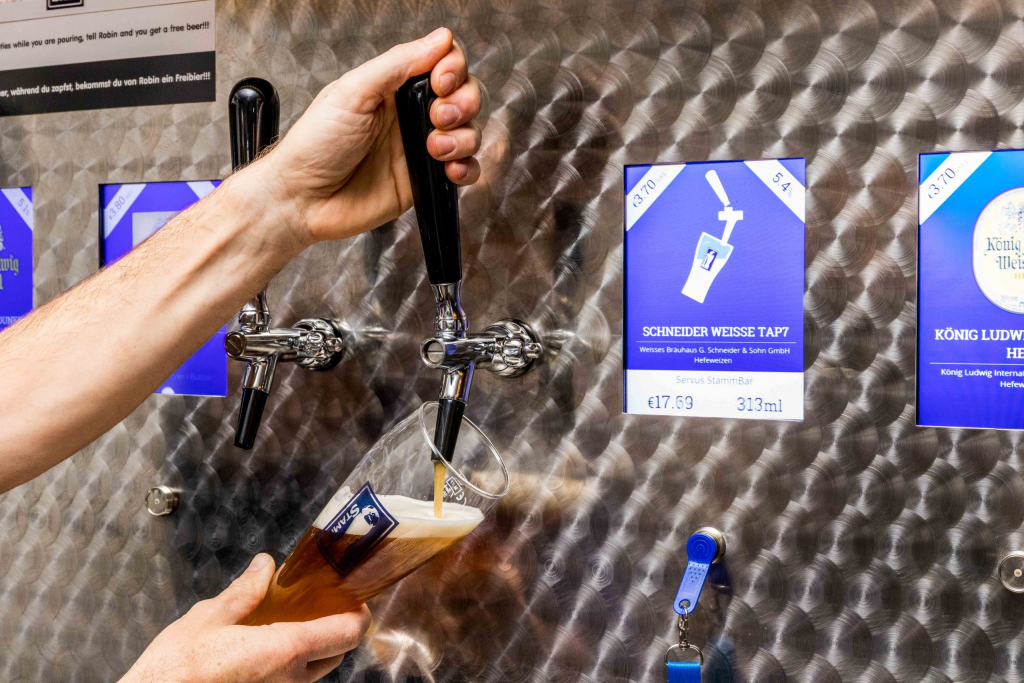 Although Stammbar doesn't follow a theme per see, we had to include it on this list because who doesn't love a self-serve bar? The bar has its' very own beer wall with 12 different beers and ciders on tap, which you can pour yourself and pay for using an "i-Button" chip that is preloaded with money. They also have a fridge stocked with cold drinks, wine, and snacks that you can also pay for with your chip. Outside food is also allowed.