The wheels of your plane have just touched down on German soil. It's an exciting feeling landing in Munich, and you're just a short distance away from fresh pretzels, ice-cold beer, and mouthwatering sausage. Once you deplane and grab your bags, you'll need to figure out how to get from the Munich Airport to the city center.
Depending on your time and budget, there are several different ways to get into the city.
Take the Train to Munich City Center
The most popular option (for both tourists and locals) from Munich Airport to the city center is by public train. It leaves the airport and takes you directly to Munich Hauptbahnhof (main station) in approximately 35 to 40 minutes.
At the airport, you'll want to take the S-Bahn (suburban train) on either the S1 or S8 lines. The trains alternate every 10 minutes, so don't worry if you miss the S1, because the S8 will come ten minutes later.
There are two ticket options. The most basic option is the Airport-City Day Ticket, which 13€ per person. This ticket is valid for your trip to and from the airport and on all Munich public transportation within the M-5 zone (which is practically the entire inner city). Group tickets for five adults (or three adults and two children) are available for 24,30€.
You can also opt for the CityTourCard, which includes your trip to and from the airport, all public transportation in Zone M, and discounts to over 80 different attractions like Schloss Nymphenburg, Olympiaturm, and dozens of restaurants and bars. This ticket starts at 23,50€ per person for 24 hours. If you're traveling with a family, then you can buy the group ticket for 35,90€, which covers five adults (or three adults and two children).
Both tickets can be purchased in the terminals of the airport or on the platform of the train tracks.
Take the Lufthansa Express Bus to Munich
If you're going to return to the airport at a later date, then you can save big by taking the Lufthansa Express Bus instead of the train. The Lufthansa Express Bus leaves every 15 minutes and takes you from the Munich Airport to the city center (Hauptbahnhof). It's a non-stop ride that takes only 45 minutes in total.
One way tickets are 10,50€ for adults and 5,50€ for children age 6 t0 14. Return tickets are 17€ (11€ for kids), which is considerably cheaper compared to the 26€ you'll spend on two one-way tickets on the S-Bahn.
Call an Uber From the Munich Airport
Uber operates in Munich, which means you can ride in style from the Munich Airport to the city center. It's not the cheapest option on this list (you should expect to pay around 60€ to 70€ for a ride to Hauptbahnhof), but it's nice to have the convenience of paying through your app.
A private Uber can also be a good idea if your accommodation isn't near the main station. An Uber can drop you right at your doorstep, so you don't have to haul your heavy bags through the metro or town.
Hire a Taxi from the Munich Airport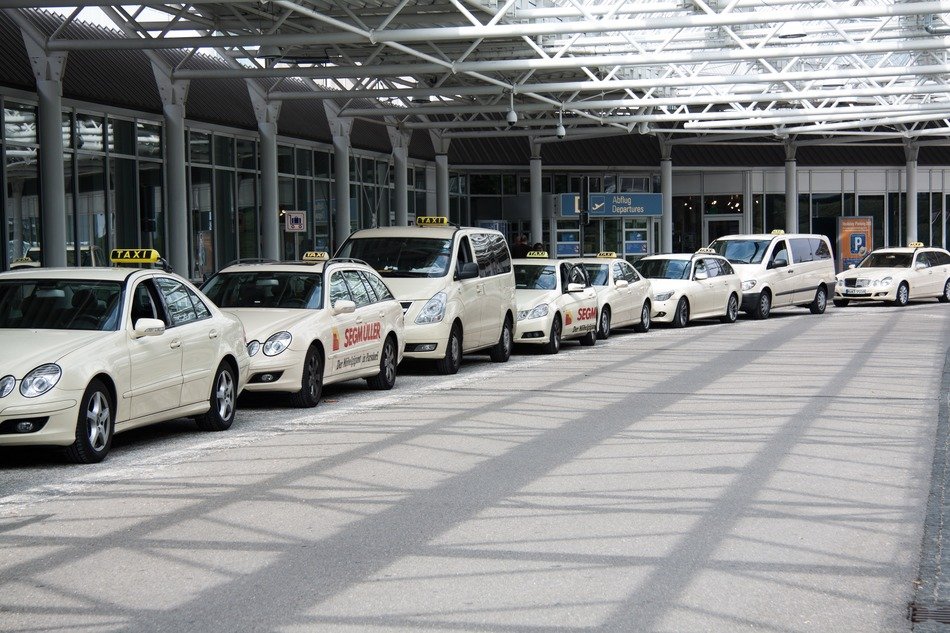 As with most airports, you'll also find a normal taxi rank outside Munich Airport (Terminal 1 exit A – E). You can expect to pay more or less what you would in an Uber (60€ to 70€), although this will depend on the time of day and where in the city you're headed.
The ride takes around 45 minutes, so it's no faster than the train or express bus, but it can be a good option if you're carrying lots of bags or staying far away from the main station.
However, not all taxis accept credit cards, so you'll want to make sure to ask ahead of time if you aren't carrying any cash.
Where to Stay in Munich
When it comes to choosing where to stay in Munich, you're in for a treat. This vibrant city offers a diverse range of accommodations to suit every traveler's preferences. Whether you're looking to immerse yourself in the historical heart of the city or prefer the tranquility of its outskirts, our guide will help you find the perfect place to call home during your Munich adventure. Discover the best options for accommodations in Munich and make the most of your visit to this captivating Bavarian gem.
And if you're coming for Oktoberfest, make sure to pick a hotel in one of these easy-to-reach neighborhoods.